The U.S. and France agreed to a 3 percent French tax to be applied to services from large Internet companies. The agreement specifies that France will repay these companies the difference between its digital tax and the taxes currently under development at the Organization for Economic Cooperation and Development (OECD). French President Emmanuel Macron, at a joint press conference with President Donald Trump, said they had reached a "good agreement," but that he prefers international taxes on digital services.
CNN reports Macron noted that because "these large multinational players … don't pay taxes, that leads to significant instability on the economic front that is not fair." Once OECD arrives at its international tax, he added, France will end its national tax. France's digital services tax "only applies to companies which earn more than €25 million (around $27.7 million) in France, or €750 million (around $830 million) worldwide."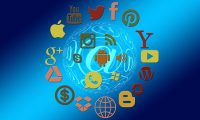 In July, the U.S. threatened retaliatory actions and the Office of the U.S. Trade Representative began a Section 301 probe into "whether the law amounts to unfair trade practices." Trump even threatened to tax French wine.
Amazon and Google, among other tech companies, said the tax would "unfairly target American companies," and Amazon added that beginning October 1, it will "pass along the costs of the French digital tax to its third-party sellers." Macron responded that French companies would also be impacted. The OECD also "seeks to ensure that multinational companies pay a minimum level of tax, thereby discouraging them from shifting profits to countries with lower levels of taxation."
CNBC reports that the new French tax will target "around 30 big tech companies including Facebook, Amazon and Google." "We've done a lot of work on the bilateral basis, we have a deal to overcome the difficulties between us," said Macron at the press conference with Trump. France's finance ministry estimates the new tax will raise 500 million Euros each year. A European Union-wide effort to tax big Internet companies failed last year, which spurred France to seek its own solution.
At the G7 conference, EU chief Donald Tusk said it would "respond in kind" if the U.S. targeted France over the digital tax. OECD is expected to produce its "multilateral solution for digital taxation" in 2020.
Topics:
Amazon
,
Digital Tax
,
Donald Trump
,
Donald Tusk
,
Emmanuel Macron
,
Europe
,
European Union
,
Facebook
,
France
,
G7
,
Google
,
Internet
,
OECD
,
Section 301
,
Taxes
,
Unfair Trade Practices
,
United States