KLCS and KJLA in Los Angeles will be the first television stations to participate in a pilot test to determine if sharing airwaves can be achieved effectively without reducing signal quality. Since the conversion to digital broadcasting, stations have been able to use their spectrum allotment of six megahertz more efficiently and broadcast multiple signals on a single band. The FCC hopes the experiment will encourage broadcasters to participate in spectrum auctions so that more airwaves can be used for wireless broadband.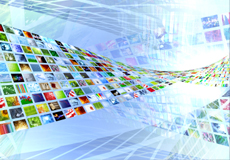 "The experiment is intended to show the extent to which broadcast channels can be squeezed together on the electromagnetic spectrum without degrading the quality of their signals. If the experiment goes as planned, no changes will be visible to consumers, who will continue to tune in to the same channels on their television sets," reports The New York Times.
"But the eventual result could be quite significant for consumers — less wireless phone congestion and better connections for smartphones to fast wireless Internet service," notes the article.
If successful, the test should help support the viability of the Federal Communications Commission's plans to auction airwaves.
"Channel-sharing represents a unique option for broadcasters that wish to continue to broadcast over-the-air programming, while also taking advantage of the incentive auction's once-in-a-lifetime financial opportunity," said Justin Cole, an FCC spokesman. "We welcome this pilot project proposal, and look forward to reviewing it closely."
"Since spectrum is a finite and valuable resource, channel-sharing is truly a win-win-win for consumers, broadcasters and wireless providers," noted Steve Largent, president and chief exec of CTIA, the lobbying arm of the wireless industry.
While the government is looking to "auction spectrum worth $25 billion and use the proceeds to build a new national network for law enforcement and public safety workers," the Los Angeles Times suggests that "many broadcasters have shown little enthusiasm for parting with their spectrum and fear that the FCC's voluntary auction could become mandatory."
Additionally, the National Association of Broadcasters questions whether there is an actual spectrum shortage.
"On a technical level, one of the main challenges to channel-sharing concerns the ability of the sharers to offer new and innovative services as they are limiting their available spectrum. On the business side, there are difficult contractual provisions that would need to be addressed," said NAB spokesman Dennis Wharton.
Topics:
Airwaves
,
Auction
,
Band
,
Broadband
,
Broadcast
,
Broadcasters
,
California
,
Channel
,
Cole
,
Commission
,
Communications
,
Congestion
,
Connect
,
Connectivity
,
CTIA
,
Electromagnetic
,
Experiment
,
FCC
,
Federal
,
Internet
,
KJLA
,
KLCS
,
LA
,
LA Times
,
Largent
,
Los Angeles
,
Megahertz
,
NAB
,
National
,
New York Times
,
Phone
,
Pilot
,
Project
,
Provider
,
Quality
,
Signal
,
Smartphone
,
Spectrum
,
Station
,
Television
,
Test
,
TV
,
Wharton
,
Wireless