TSMC has revised plans for its Arizona chip plant, reportedly the result of pressure from customers including Apple, Nvidia and AMD, who urged the Taiwanese company to reconsider its plan to output 5-nanometer processors that will be old news by the time the $12 billion plant opens in 2024. TSMC is expected to announce during a scheduled Tuesday visit by President Biden and Commerce Secretary Gina Raimondo that it will output advanced 4-nanometer chips when production commences and will add a second nearby plant to manufacture even more sophisticated 3-nanometer chips.
TSMC plans to produce a minimum of 20,000 wafers each month at the Phoenix facility, and Apple CEO Tim Cook has indicated the company will be sourcing materials from the new plant, with Bloomberg reporting "Apple will use about a third of the output."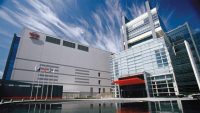 Cook is expected to be on hand lending support at this week's "first tool in" ceremony, along with Nvidia CEO Jensen Huang and AMD CEO Lisa Su. TSMC is positioned to receive billions in subsidies as a result of the CHIPS and Science Act that became law earlier this year, apportioning $50 billion in incentives for companies expanding U.S. chip manufacturing. California-based Intel is also teed-up to take advantage of the program.
European governments are also offering financial support as Western allies strive for silicon independence from China as a matter of national security. "The possibility of China taking over Taiwan also has sparked concerns about relying on that region for so much of the semiconductor industry's current supply," Bloomberg says, adding that "TSMC, headquartered on the island, is the world's go-to supplier for chips powering everything from smartphones to electric vehicles."
"TSMC's customers have asked the company to roll out its latest technologies simultaneously in the U.S. and Taiwan," Bloomberg writes, citing "a Biden administration goal of having the most cutting-edge chips in the world produced on U.S. soil." But TSMC has yet to commit to that plan, "and Taiwanese and company officials have said that they intend to keep the latest technology at home," according to Bloomberg.
While Apple's latest chips utilize the 5-nanometer process, MacRumors says that Apple is "using 4nm and 3nm processes for some of its upcoming M-series and A-series chips for use in Macs, iPads, iPhones, and other products."
9to5Mac reports that Apple "plans to switch" to 3-nanometer chip technology in 2023, "a year before production is scheduled to start" in Phoenix by TSMC. Construction of the main Phoenix plant "was completed in August."
Related:
TSMC's Arizona Chip Plant, Awaiting Biden Visit, Faces Birthing Pains, The Wall Street Journal, 12/5/22
In Phoenix, a Taiwanese Chip Giant Builds a Hedge Against China, The New York Times, 12/6/22
U.S., EU Agree to Coordinate Semiconductor Subsidy Programs, The Wall Street Journal, 12/5/22
Topics:
AMD
,
Apple
,
Arizona
,
China
,
Chip
,
CHIPS and Science Act
,
Electric Vehicle
,
Europe
,
Gina Raimondo
,
Intel
,
iPad
,
iPhone
,
Jensen Huang
,
Joe Biden
,
Lisa Su
,
Mac
,
Manufacturing
,
National Security
,
Nvidia
,
Phoenix
,
Processor
,
Smartphone
,
Taiwan
,
Tim Cook
,
TSMC