New chip factories are springing up worldwide to meet a historic shortage of semiconductors. The effort to increase output to meet chip demand in everything from computers to cars to smart TVs includes a new $12 billion plant located in Arizona for the world's largest wholesale chipmaker, Taiwan Semiconductor Manufacturing Co. TSMC's Arizona plant is scheduled to begin producing advanced 5nm chips by 2024. And as part of its commitment to spend $100 billion over three years to increase production, TSMC just announced plans to build a new manufacturing facility in Japan.
CNBC, which got an exclusive tour of the Arizona plant just outside of Phoenix, quotes Rick Cassidy, TSMC's chief strategy officer and president and CEO of the Arizona project as saying the chips will "be used in lots of different places: CPUs, GPUs, IPUs, etc. They'll be used in smartphones."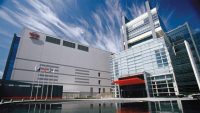 TSMC supplies components for everything from cellphones to F-35 fighter jets to parts for NASA, including the Perseverance Rover that landed on Mars this year. The company manufactures 5nm chips designed for high-performance computing (HPC) applications and is Apple's provider for most of the advanced chips inside iPhones and Mac computers.
Earlier this year, IBM announced a groundbreaking 2nm chip. TSMC is also reportedly working on a 2nm process. The Japan factory will focus more on chips for household devices and certain automotive components, which rely on older technologies, according to CNBC.
The Wall Street Journal reports that TSMC "hasn't ruled out" adding additional facilities in places like Europe and is also "expanding production capacity in Nanjing, China."
The global chip shortage has had a damaging impact on manufacturing, particularly for automobiles. WSJ reports that some of the world's top carmakers have closed factories or cut production due to the semiconductor shortage. Cars utilize chips for things including air conditioning, engine control and Wi-Fi connectivity, among other things.
The result has been declining sales despite demand, as the demand cannot be met. TSMC has emerged as a crucial player during this market reset. The company predicts it will raise 2021 output of auto chips by 60 percent, according to WSJ. Other chipmakers — including Intel, Samsung and GlobalFoundries — have also announced plans to increase production.
Topics:
Apple
,
Arizona
,
Automakers
,
Automotive
,
China
,
Chips
,
Computer Chips
,
GlobalFoundries
,
IBM
,
Intel
,
iPhone
,
Japan
,
Mac
,
Manufacturers
,
Manufacturing
,
Military
,
Nanjing
,
NASA
,
Phoenix
,
Rick Cassidy
,
Samsung
,
Semiconductors
,
Smart Appliance
,
Smart TV
,
Smartphone
,
TSMC