Rhode Island-based Hasbro, manufacturer of popular toys including G.I. Joe, Mr. Potato Head, My Little Pony and Transformers, is reportedly in advanced talks to acquire DreamWorks Animation. Hasbro would pay a mix of cash and stock according to current terms of the proposed deal. DreamWorks CEO Jeffrey Katzenberg is said to be looking for more than $30 a share for the sale. The news comes shortly after Japanese telecom SoftBank was reported to be a prospective buyer.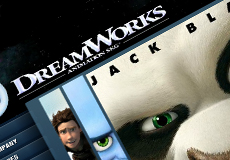 The two companies have collaborated in the past on toys based on films such as "Shrek" and "Kung Fu Panda." Hasbro believes that an acquisition would help it find a new market for its collection of toys and take on rival Mattel. The deal would also provide the toymaker with AwesomenessTV, a popular YouTube channel targeting teenage girls.
"Hasbro's chief executive, Brian Goldner, has long sought to take advantage of the company's properties to transform it into a global entertainment titan, notably by forming its own studio in 2009 to develop and produce television shows and movies," reports The New York Times.
Hasbro has met success with Paramount and the live-action "Transformers" franchise. And the company recently teamed with Universal for the successful horror film "Ouija," based on the classic board game.
However, Hasbro's joint venture with Discovery Communications for children's channel the Hub Network ended last month, and the toymaker's "Battleship" film in 2012 did not perform as expected.
"Reports of the possible deal with Hasbro, along with a possible Web television joint venture with Hearst, moved DreamWorks Animation shares up 14.1 percent in Nasdaq trading to close at $25.52 a share, while Hasbro stock fell 4.3 percent on the same exchange to $54.98," notes NYT in a related article.
Topics:
Acquisition
,
Animation
,
AwesomenessTV
,
Battleship
,
Board Games
,
Brian Goldner
,
DreamWorks Animation
,
DWA
,
G.I. Joe
,
Game
,
Hasbro
,
Hearst
,
Hub Network
,
Japan
,
Jeffrey Katzenberg
,
Kung Fu Panda
,
Mattel
,
Movie
,
Mr. Potato Head
,
My Little Pony
,
Ouija
,
Paramount
,
Rhode Island
,
Shrek
,
SoftBank
,
Telecom
,
Toys
,
Transformers
,
TV Show
,
Universal
,
YouTube