TiVo launched Stream 4K, its first device that focuses on streaming video. The Stream 4K dongle, which plugs into HDMI and hangs from the bank of the TV set, was announced at CES 2020 and is shipping today for $50. It uses Google's Android TV system to access Netflix, Amazon Prime Video, YouTube and other familiar apps and provides 4K resolution, Dolby Atmos sound and Dolby Vision HDR if available from the app. Stream 4K will compete with Amazon Fire TV Stick 4K and Roku Streaming Stick+.
CNET reports that, "Stream also adds some key differences," the most obvious being its remote. Unlike other streaming platforms, TiVo actually adds more buttons, numbers and a very visible Guide key. One button allows voice search via the built-in Google Assistant. TiVo has also used its search and metadata technology to offer a "proprietary TiVo Stream app" to "surface content" from the user's streaming "bundles" in a single place.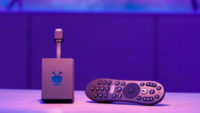 The dongle "launches with Sling TV as a preferred source for live TV," which allows Sling subscribers to "search via the interface or the Voice Remote and see a variety of shows offered by Sling." TiVo's product sheet can be found here.
TiVo Plus will also offer free channels including content from "TMZ, Outside TV, PowerNation, FailArmy, Hell's Kitchen, Cheddar and, thanks to a new partnership, Pluto TV." In January, a TiVo spokesperson reported that "Stream won't be compatible with the existing TiVo hardware at launch as it was 'designed from the ground up' but that integration is on the roadmap."
On May 27, the introductory price will go up to $70, "affordable when judged against the only other major Android TV device, the $150 Nvidia Shield, but still relatively expensive for a basic 4K streamer."
Engadget reports that TiVo chief executive Dave Shull said he was "betting the future of the company" on a plan that "splits its product and licensing arms, while also launching a streaming video service and a $50 Android TV dongle." The reviewer said the device "worked smoothly, showing off the promise of both the current version of Android TV, and TiVo's Stream app, which is where its custom experience really comes into play."
"The Stream app is where TiVo hopes its strategy will pay off," he said.
"The big idea of TiVo … is that its software can push a blend of live TV — with an assist from Sling TV's 7-day free trial and the various channels in its TiVo+ networks — and streaming options," rather than "switching in and out of a bunch of apps."
"It's an Android TV box at heart so it's flexible enough to access all the big services including Disney+, but that's not what TiVo hopes make this special," he said. "Without any real link to its existing set-top boxes existing fans won't have a lot of reasons to pick this streaming setup out of the bunch, but my experience with the interface suggests it has potential to rise above Fire TV and Roku as an easy option for cord-cutters."
Topics:
4K
,
Amazon Fire TV Stick
,
Amazon Prime Video
,
Android TV
,
Apps
,
CES 2020
,
Cheddar
,
Cord Cutters
,
Dave Shull
,
Disney Plus
,
Dolby Atmos
,
Dolby Vision HDR
,
Dongle
,
Google
,
Google Assistant
,
HDMI
,
Netflix
,
Nvidia Shield
,
Pluto TV
,
Roku Streaming Stick
,
Sling TV
,
Stream 4K
,
Streaming
,
TiVo
,
TiVo Plus
,
TMZ
,
Video
,
Voice Remote
,
YouTube