TikTok is making a big push into e-commerce with a plan to sell made-in-China products to consumers. The move sets up a rivalry with popular shopping platforms Shein and Temu to bring Chinese goods to the U.S., while the overall approach replicates the successful "Sold by Amazon" program. As with leading online marketplace Amazon.com and the companies it represents, TikTok will warehouse and ship items — ranging from clothing, electronics and kitchenware — for Chinese merchants, handling checkout, marketing and after-sale services. TikTok plans to debut its American shopping program in August.
"TikTok is now building an Amazon-like marketplace, the TikTok Shop Shopping Center, which integrates different channels where users can view and buy goods into one single page," The Wall Street Journal reports, explaining "users can review merchandise both sold through TikTok's program and directly by external retailers."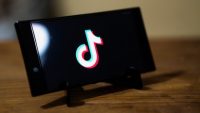 The move aims to broaden TikTok's revenue via e-commerce, something with which the wildly successful short-form social video app has struggled. Initial plans for a third-party U.S. sellers' platform were delayed "because American merchants were reluctant to join amid political uncertainty over the app's future," WSJ writes.
TikTok, which is owned by China's ByteDance, is under scrutiny by lawmakers as a national security risk for potential unauthorized data sharing with the Chinese government. Some observers say a full-scale TikTok U.S. e-commerce rollout could heighten that existing pressure from regulators, as well as lobbyists for competitors.
"Under what it calls a 'full-service model,' TikTok will pay Chinese suppliers only after finding buyers in the U.S. and will return unpopular items to avoid being stuck with inventory," explains WSJ, adding that "it also plans to open the new program to manufacturers and merchants outside China in the future as it builds up international settlement and logistics systems."
TikTok has been testing something called TikTok Shop that lets approved creators sell wares, taking a cut of the proceeds. TikTok Shop's "videos mentioning products you can buy already seem to be sliding into user feeds" in the U.S., writes The Atlantic, noting that "the app's live-streams have become QVC-like places where sellers are nonstop pitching products to live audiences."
Last month, the company's Trendy Beat shopping feature became public.
TikTok's intensified e-commerce activity "follows the rise of PDD Holdings' Temu and fast-fashion retailer Shein — which made a $800 million profit in 2022 — and could add another test for Amazon.com," according to WSJ.
Related:
TikTok Won't Launch Cross-Border E-Commerce Services in Indonesia Amid Concerns, Reuters, 7/27/23
TikTok Launching E-Commerce Business Competing with Shein and Temu, Forbes, 7/25/23
China's Cutthroat E-Commerce Tactic Goes Global as Shein-Temu War Escalates, TechCrunch, 7/31/23
Topics:
Amazon
,
ByteDance
,
China
,
Creator
,
E-Commerce
,
E-Retail
,
Indonesia
,
Marketplace
,
Merchant
,
National Security
,
Online Shopping
,
PDD Holdings
,
Regulation
,
Shein
,
Shopping
,
Social Media
,
Social Shopping
,
Sold by Amazon
,
Temu
,
TikTok
,
TikTok Shop
,
TikTok Shop Shopping Center
,
United States
,
Video
,
Warehouse