TikTok is floating a trial balloon of its own AI chatbot, named Tako, now testing in select markets. Tako invites users to ask questions about TikTok videos and is also designed to help with discovery and recommendations. Tako's public testing was first reported by Israeli app intelligence firm Watchful. TikTok subsequently confirmed testing in the Philippines and said Tako tests were live in some other global markets, but said the chatbot is not yet deployed in the United States. Unlike Microsoft's Bing Chat, Google's Bard and Snap's My AI, Tako seems hyperfocused on TikTok content.
"When watching a video of King Charles' coronation, Tako might suggest that users ask 'What is the significance of King Charles III's coronation?' Or if users were looking for ideas of something to watch, they could ask Tako to suggest some videos on a particular topic — like funny pet videos," TechCrunch explains, adding that in the latter circumstance, "the bot would respond with a list of results that include the video's name, author and subject, as well as links to suggested videos."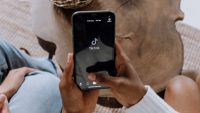 TechCrunch reports the chatbot "will not appear on minors' accounts," and says the company "is leveraging an unknown third-party AI provider" whose models have been "customized for its needs" without tapping into "any in-house AI technologies from TikTok or parent company ByteDance." Due to U.S. tech sanctions against China, the company's options are somewhat limited.
Upon launching Tako, TikTok users are advised via pop-up that the bot is considered "experimental" and information it imparts "may not be true or accurate," a common disclaimer on virtually all current chatbots. The advisory also discloses all conversation with Tako will be reviewed for safety purposes and to improve the user experience.
While this, too, is common, "from a privacy standpoint, that means the AI conversations are not being deleted after chats end, which poses potential risks," TechCrunch writes, noting TikTok is letting users delete their chats manually, an approach other companies are also taking. The AI tests come as TikTok is under scrutiny by governments around the globe as to possible data misuse.
The Wall Street Journal reports the proliferation of in-app generative AI chatbots includes Duolingo and Expedia, and mentions that "in February, Facebook parent Meta Platforms said it was establishing a group aimed at accelerating the adoption of the technology across the company."
For app makers, AI serves "as a potential engagement booster," WSJ writes, quoting a Watchful blog post that says "Tako could completely transform the way users navigate TikTok."
Related:
TikTok Is Testing an AI Chatbot Called Tako, The Verge, 5/25/23
TikTok Is Also Making an AI Chatbot, for Some Reason, The Washington Post, 5/25/23
TikTok Testing New AI Chatbot 'Tako', Forbes, 5/25/23
Topics:
App
,
Artificial Intelligence
,
Bard
,
Bing Chat
,
ByteDance
,
Chatbot
,
China
,
Data Privacy
,
Duolingo
,
Expedia
,
Facebook
,
Generative AI
,
Google
,
Israel
,
Meta Platforms
,
Microsoft
,
My AI
,
Philippines
,
Privacy
,
Recommendation
,
Safety
,
Snap Inc.
,
Social Media
,
Tako
,
Test
,
TikTok
,
Video
,
Watchful