Nvidia CEO Jensen Huang's keynote at Computex Taipei marked the official launch of the company's Grace Hopper Superchip, a breakthrough in accelerated processing, designed for giant-scale AI and high-performance computing applications. Huang also raised the curtain on Nvidia's new supercomputer, the DGX GH200, which connects 256 Hopper chips into a single data-center-sized GPU with 144 terabytes of scalable shared memory to build massive AI models at the enterprise level. Google, Meta and Microsoft are among the first in line to gain access to the DGX GH200, positioned as "a blueprint for future hyperscale generative AI infrastructure."
The GH200 Grace Hopper chip (below), now in full production, is primed to deliver massive recommendation systems, generative AI and graph analytics, using NVLink to connect host and accelerated processors at up to 900 gigabytes per second. "The superchip boosts 4 PetaFIOPS TE, 72 Arm CPUs connected by chip-to-chip link, 96GB HBM3 and 576 GPU memory," TechCrunch reports, quoting Huang saying "this is a computer, not a chip."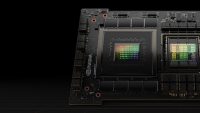 Huang also revealed that Nvidia is building its own DGX GH200-based AI supercomputer, named Helios, to support the work of its researchers and development teams. Helios will feature four DGX GH200 systems (1,024 Grace Hopper Superchips) connected with Nvidia's Quantum-2 InfiniBand for speeds of up to 400 gigabits per second. Helios is expected to be online by the end of the year.
Huang fired up a news tsunami that in addition to the DGX GH200 supercomputer, also touched on:
Describing ACE, VentureBeat writes that it "equips non-playable characters with conversational abilities, allowing them to respond to inquiries with evolving lifelike personalities" by using "AI foundation models such as Nvidia Riva for speech detection and transcription, Nvidia NeMo for generating customized responses and Nvidia Omniverse Audio2Face for animating these responses."
Additionally, a collaboration with Microsoft "aims to enhance and expand the installed base of more than 100 million PCs with RTX GPUs featuring Tensor Cores, thereby boosting the performance of more than 400 AI-accelerated Windows applications and games," VentureBeat reports.
Huang waxed philosophical during his two-hour presentation, hailing "a new era of computing in which 'everyone is a programmer'" thanks to the ability of generative AI like ChatGPT to create code based on natural language requests, reports Financial Times, which notes Huang's Computex speech came days after Nvidia's Q2 forecast that "put it on course to become the world's first trillion-dollar semiconductor stock."
Related:
Nvidia Crosses into $1 Trillion Market Cap Before Giving Back Gains, CNBC, 5/30/23
'Everyone Is a Programmer' with Generative AI, Says Nvidia Chief, CNBC, 5/30/23
Nvidia Says Its New Supercomputer Officially 'Closes the Digital Divide', Gizmodo, 5/30/23
Nvidia CEO Says Intel's Test Chip Results for Next-Gen Process Are Good, Tom's Hardware, 5/30/23
Nvidia's Generative AI Lets Gamers Converse with NPCs, Engadget, 5/29/23
Watch This Nvidia Demo and Imagine Actually Speaking to AI Game Characters, The Verge, 5/28/23
Nvidia ACE Brings AI to Game Characters, Allows Lifelike Conversations, Tom's Hardware, 5/29/23
Topics:
5G
,
6G
,
ACE
,
Artificial Intelligence
,
ChatGPT
,
Computex
,
Data Center
,
DGX GH200
,
Enterprise
,
Foxconn
,
Generative AI
,
Google
,
Grace Hopper Superchip
,
Helios
,
Innodisk
,
Jensen Huang
,
Manufacturing
,
Meta Platforms
,
MGX
,
Microsoft
,
Nvidia
,
NVLink
,
Pegatron
,
Quanta
,
SoftBank
,
Spectrum-X
,
Supercomputer
,
Tensor
,
Windows
,
Wistron
,
WPP