TikTok is taking steps to ensure U.S. user data is secure and that young people will be protected from harmful content, company CEO Shou Zi Chew said at The New York Times' DealBook Summit. "We have very rigorous data-access protocols," the executive said Wednesday, addressing concerns expressed by members of Congress and the Federal Trade Commission. Chew said TikTok, which is owned by Beijing-based ByteDance, plans to work with Oracle as its data storage provider based in large part on the company's strong security protocols.
"In the future, we're going to organize by moving the data to the Oracle data cloud infrastructure and only U.S. residents can access it. This is a solution that no other company is trying to pursue," The Wall Street Journal reported Chew saying at the event.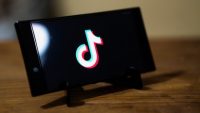 TikTok has been talking about a deal with Oracle since September 2020, when an agreement was first announced, making this what has to be one of the longest wind-ups in the history of Big Tech.
In March, Wired reported that "under the agreement, Oracle would store TikTok data for U.S. users, ensure that data is not transferred to ByteDance, and be responsible for protecting user data from cybersecurity threats."
Chew was previously CFO of ByteDance, and lived in Beijing, though he now lists his residence as Singapore and said at DealBook that TikTok data is stored on servers there as well as in Virginia.
Calling Chew's appearance at the DealBook conference "a rare public interview," The Verge wrote that "the 40-year-old Chew was funny and relaxed for most of the interview" Chew told host Andrew Ross Sorkin that "he is 'responsible for all the strategic decisions at TikTok' in response to a question about interference from the Chinese government," according to The Verge.
That account seems to contradict a previous New York Times report that suggested Chew's authority is limited, and ByteDance is calling the shots. In September, TikTok was hauled before Congress to clarify its positon, and a month later FCC commissioner Brendan Carr renewed calls for a U.S. TikTok ban.
Summarizing data from a Forbes investigation, the results of which were first published last month, The Drum says an internal ByteDance audit found problems related to fraud, including "an institutional issue with embezzlement." The assessment also disclosed "systemic issues with data management."