TikTok is launching new targeting and boosting features for Promote, a tool designed to drive traffic to a profile or brand home page. First launched in 2021, Promote is touted as a way to turn viewers into potential leads. TikTok says Promote improves audience targeting while letting small businesses and creators strengthen ties with communities by customizing how users interact with their ads. A recent study shows that positioning an "organic" TikTok video before a paid ad "increases aided brand recall by 27 percent" and holds attention to the ad "12 percent longer," according to the social platform.
"With this new Promote update, viewers will be presented with a call to action driving them directly to the advertisers TikTok profiles," writes TechCrunch, detailing "a new 'more messages' Promote goal that allows small businesses that rely on interactions with customers to make their sales directly drive traffic to their TikTok inbox."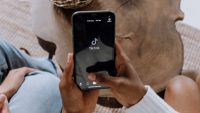 Service businesses, B2B brands, and businesses that take custom orders are positioned as target users for Promote.
Additionally, "Promote now gives small businesses that work with creators the option to promote the creators' videos or LIVE videos to help increase views to their target audience," TechCrunch says, explaining that audience targeting for Promote has expanded "to include location as well as gender, age and their interests, allowing small businesses with physical locations to directly target their local community."
TikTok says in an announcement that one e-commerce fashion client saw a "30 percent lift in traffic and increase in overall sales" as a result of using Promote. In another example, a jazz saxophonist used Promote to take his TikTok account "to the next level" and by setting specific ad goals and customizing his intended audience "was able to increase his website subscribers by 17 percent."
"Now advertisers can either let TikTok pick the audience for them or create their own custom audience by choosing who they want to reach," says TikTok, emphasizing it is expanding its suite of features "to empower advertisers of all sizes," whether through building audience or engaging new customers or both.
"Given TikTok's interest in asserting itself as an e-commerce platform, it's no surprise that it's looking to woo advertisers and build out its advertising suite," TechCrunch says, noting that last year the company launched the "Shopping Ads" commerce suite for brands, and also added "a product called 'Branded Mission' that allows creators to connect with brands and possibly receive rewards for videos."
A contextual ad solution, TikTok Pulse, was also introduced in 2022, "to lure advertisers to its platform by giving them the ability to showcase their brands' content next to the best videos on TikTok," per TechCrunch.
Topics:
Advertising
,
Audience Targeting
,
B2B
,
Brand
,
Branded Mission
,
E-Commerce
,
Gender
,
Local Business
,
Location Data
,
Marketing
,
Online Traffic
,
Organic Posts
,
Promote
,
Promotion
,
Short-Form Video
,
Small Business
,
Social Media
,
Subscriber
,
Subscription
,
TikTok
,
TikTok Creators
,
TikTok Pulse
,
Video