At yesterday's product launch event in San Francisco, Apple announced the fifth generation of its market-leading tablet, promising a "thinner, lighter, faster" device — and introducing a new name. The new iPad Air will feature the same 9.7-inch screen as the fourth-gen iPad and the same A7 processing chip that is in the new iPhone 5S, making it 72 times faster than the original iPad. The new 1-pound tablet is 20 percent thinner and 28 percent lighter than the current model.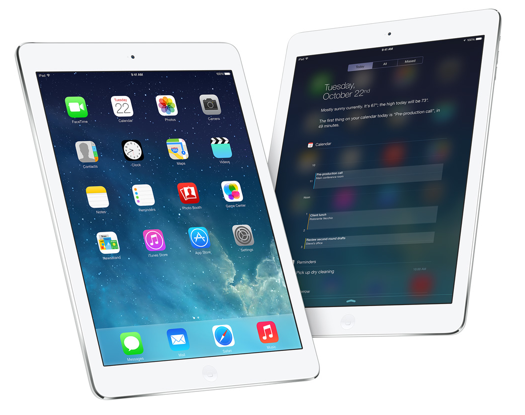 Apple CEO Tim Cook described the changes as "the biggest iPad announcement ever, by a large margin."
"I can't think of another product that's come so far, so fast," he said, noting that the company has sold more than 170 million iPads.
According to Apple SVP Phil Schiller, the iPad Air will be available November 1, starting at $499 for a 16GB Wi-Fi-only model. Another 16GB version with 4G LTE connectivity will cost $629.
"Schiller also announced a revamped iPad Mini starting at $399," reports CNN (the post includes video of Schiller on stage during the event). "It will be available later in November in silver or space gray and will pack a speedy A7 processor and the same high-resolution Retina display as bigger iPads."
"Just as important, Apple's new holiday lineup lowers the entry price for the cheapest iPads to below $300 for the first time," notes The Wall Street Journal. "Apple said it will sell a range of tablets starting with last year's iPad Mini for $299, up to the new iPad Air, which starts at $499. That brings Apple closer in line with competitors like Amazon.com Inc., who have pushed tablet prices down as far as $229."
The company also plans to offer free access to its iWork productivity suite and iLife photo, movie and music making apps for those who purchase new devices.
The new iPads and software strategy come at a critical time for Apple as the company faces new competition in the tablet space from the likes of Samsung and Amazon.
"Research firm Gartner expects Apple's share of the tablet market to fall below 50 percent this year, down from 54 percent last year and 65 percent in 2011," explains WSJ. "Tablets powered by Google Inc.'s Android software are expected to hit as much as 50 percent of the market this year, up from about 45 percent last year."
Google, Sony, Asustek and Lenovo are among those currently offering tablets. Nokia just unveiled its first tablet this week and Microsoft announced the second version of its Surface tablet.
For additional information and tech specs, visit Apple's iPad Air site.
Related Stories:
Nokia Lumia 2520: A Closer Look at Nokia's First Windows Tablet, The Verge, 10/22/13
Microsoft Surface Pro 2 Review: A Tablet That Works Best as a Laptop, Engadget, 10/21/13
Topics:
4G
,
5S
,
Air
,
Amazon
,
Android
,
App
,
Apple
,
Asustek
,
California
,
Chip
,
CNN
,
Display
,
Event
,
Gartner
,
Google
,
iLife
,
iPad
,
iPad Air
,
iPad mini
,
iPhone
,
iWork
,
Laptop
,
Lenovo
,
LTE
,
Lumia
,
Microsoft
,
Mini
,
Mobile
,
Nokia
,
Phil Schiller
,
Research
,
Retina
,
Samsung
,
San Francisco
,
Smartphone
,
Software
,
Sony
,
Surface
,
Tablet
,
Tim Cook
,
Wi-Fi
,
Windows