Apple, Facebook, Microsoft and Twitter were among the first U.S. companies to send their employees home as the coronavirus spread. Now, as they reopen their campuses, they are also allowing some of employees to continue to work from home. If that policy becomes widespread, it will be a major change from the college-like corporate campuses the companies built to encourage creativity and spontaneous interactions. Working from home will be its own perk and allow companies to broaden their search for workers.
ABC News reports that Facebook, Google and Twitter employees can work remotely through 2020, while Microsoft workers go back to the office in October. A switch to working at home after COVID-19 "could re-imagine not just Silicon Valley but other cities as the companies expand hiring in places like Atlanta, Dallas and Denver, where Facebook plans to open new 'hubs' for its new, mostly remote hires."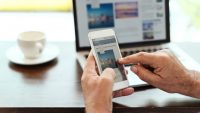 A Facebook employee survey revealed that about 20 percent of workers were "extremely or very interested" in full-time remote work, and another 20 percent was "somewhat" interested. A larger number wanted a flexible schedule.
Facebook chief executive Mark Zuckerberg, who also banned all meetings of 50+ people through June 2021, said that "as many as half of Facebook's workers could be working remotely," but it is "years, perhaps even a decade, away." Candidates for remote work would be those with "a level of seniority, strong performance and, naturally, being part of a team that supports remote work."
Twitter stated last week that chief executive Jack Dorsey had decided before the coronavirus that "some employees [can] work from home on a permanent basis."
The Wall Street Journal reports that, "Zuckerberg said Facebook is moving gradually [to remote working] because the shift will require new techniques and tools to compensate for the loss of in-person office interactions," adding that the company's "ability to keep working amid abrupt restrictions brought on by the pandemic gave him confidence in the remote working model."
With regard to new tools, Zuckerberg said that the recently launched Messenger Rooms is now being adapted for Facebook Workplace, its office collaboration toolset. The company is also "expanding work-related features for its Portal video displays and Oculus virtual reality platform."
Zuckerberg said the company "will monitor [remote] employees' locations and those who mislead the company would face 'severe' penalties." He was bullish on the disperse workforce that could be the result of remote working, noting that it "will enable more demographic and ideological diversity if recruits aren't required to work in tech strongholds like the San Francisco Bay Area."
Elsewhere in Silicon Valley, cryptocurrency exchange Coinbase said it would continue to be "remote-first" when COVID-19 restrictions are lifted, and Shopify said that, "most of its employees will work remotely in the future." On the other hand, Elon Musk fought a public battle to reopen his Tesla factory, and Snap chief executive Evan Spiegel said, although "he feels more productive and fulfilled" working remotely, he "thinks the idea of knowledge workers working from home indefinitely is dystopian."
Related:
Facebook Ramps Up Remote Work Service as Pandemic Shuts Offices, Tech Xplore, 5/21/20
Most Shopify Employees Won't Return to Office After Coronavirus Pandemic, CEO Says, Global News, 5/25/20
Why Many Employees Are Hoping to Work From Home Even After the Pandemic Is Over, CNBC, 5/4/20
54% of Adults Want to Work Remotely Most of the Time After the Pandemic, According to a New Study From IBM, Business Insider, 5/5/20
57% of Small Business Owners Believe Remote Work Will Continue After Stay-at-Home Orders Lifted, Small Business Trends, 5/20/20
Topics:
Apple
,
Coinbase
,
Coronavirus
,
COVID-19
,
Cryptocurrency
,
Elon Musk
,
Evan Spiegel
,
Facebook
,
Facebook Workplace
,
Google
,
IBM
,
Jack Dorsey
,
Mark Zuckerberg
,
Messenger Rooms
,
Microsoft
,
Oculus
,
Portal
,
Remote Working
,
Shopify
,
Silicon Valley
,
Snap Inc.
,
Tesla
,
Twitter
,
Virtual Reality
,
Working From Home