During his SXSW keynote in Austin, Texas yesterday, Google SVP of Android, Apps and Chrome, Sundar Pichai said that the company has sold "millions" of its $35 HDMI Chromecast devices since the product's launch last summer. Pichai's comments mark the first time anyone from Google has publicly addressed Chromecast sales. Pichai also told the crowd that Chromecast will be available for "many more countries" in the coming weeks, and Google will release an Android SDK for wearable devices.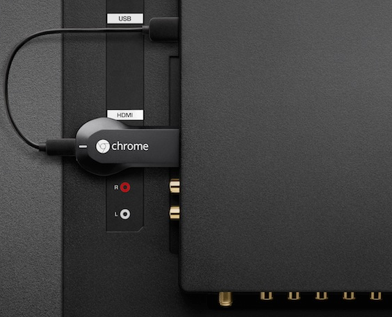 "At $35, Chromecast is a phenomenal deal, but new features and services have come to it slowly over the past few months," reports The Next Web. "Now that the device has an SDK and is expanding internationally, we can hopefully expect a quicker pace for improvements to the platform."
Chromecast was sold out for weeks after it was initially introduced, and has topped Amazon's Kindle as the best-selling CE product on Amazon.com in recent months. However, without concrete numbers, it is difficult to know how Chromecast is selling in comparison to competitors such as Apple TV and Roku.
"Roku said earlier this year that it has shipped close to 8 million of its players to U.S. consumers over the years," reports GigaOM. "Apple CEO Tim Cook recently said that his company made $1 billion with Apple TV in 2013, but that number included media sales."
Pichai also revealed that an Android SDK for wearable devices will be available in two weeks. Google will present a "vision for developers of how we see this market working," he said.
"From CES to MWC, wearable devices have been a major theme at this year's tech events. Pichai said he's particularly excited about the potential that the small, powerful sensors in wearables can bring to Android," explains TNW in a related post. "During the Q&A time, Pichai clarified that the new SDK isn't just for smartwatches. In his view, Google's role is to developer the system software and API, but it's up to developers and partners to figure out which new form factors to use."
Related Story:
Google to Offer Android for Wearables, The Wall Street Journal, 3/9/14
Topics:
Amazon
,
Android
,
API
,
Apple
,
Apps
,
Austin
,
CES
,
Chrome
,
Chromecast
,
Congress
,
Connected
,
Consumer
,
Developer
,
Device
,
Electronics
,
Google
,
HDMI
,
Keynote
,
Kindle
,
Kit
,
Mobile
,
MWC
,
Next Web
,
Partner
,
Phone
,
Pichai
,
Player
,
Roku
,
Sales
,
SDK
,
Sensor
,
Show
,
Smart
,
Smartphone
,
Smartwatch
,
Software
,
Southwest
,
Stream
,
Streaming
,
SXSW
,
Tablet
,
Television
,
Texas
,
Tim Cook
,
TV
,
Watch
,
Wearable
,
World