Intel and Samsung announced a partnership this week that will allow Samsung TV owners to stream movies directly from PCs running Intel's latest processors. The companies are teaming to integrate Intel's Wireless Display technology directly into Samsung's TVs, which will eliminate the need for a separate receiver to play media content on TVs streamed from a PC. The technology is expected to reach consumers by the end of this year.
"Samsung is a big customer win for Intel," reports Techworld. "Around 10 million TVs from manufacturers including LG, Toshiba and TCL already have Wireless Display integrated, and with Samsung, the number will double by the end of the year, said Kirk Skaugen, senior vice president and general manager of Intel's PC Client Group."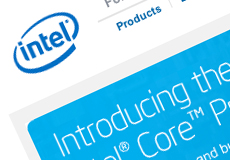 The Wireless Display capabilities are available in Intel's latest Core processors and the company has plans to include the media streaming chip in smartphones and tablets. At Computex this week, Dr. Hermann Eul, head of Intel's mobile group, described the company's strategy to compete with ARM and develop "leadership products" in mobile.
Intel launched new dual- and quad-core processors for desktops, laptops and hybrids at Computex.
"Intel is now shipping Clover Trail+, a dual-core processor that delivers twice the performance (three times the graphics capabilities), lower power and longer battery life than the previous generation," notes ZDNet.
Lenovo's K900 smartphone uses Clover Trail+ (the 2.0GHz Atom Z2580), while the MemoPad FHD 10 tablet and Fonepad Note FHD 6 phablet from Asus both use the 1.6GHz dual-core Atom Z2560. "Eul mentioned several other products using Atom — several of which were announced this week — including the Acer Iconia W3, Asus Transformer Book Trio, Lenovo IdeaPad Mix 10, Samsung Galaxy Tab 3 and ZTE smartphones," adds ZDNet.
Intel's next architecture, Silvermont, on 22nm with Tri-Gate transistors, "will be used in variety of platforms including Bay Trail for tablets and Merrifield for smartphones," explains ZDNet. "It will deliver three times more peak performance or five times less power. The first Bay Trail tablets running Windows 8.1 or Android will be available by the end of the year."