Music streaming and media services provider Spotify is implementing a five-star rating system, not unlike Apple's, in an attempt to become a bigger player in the podcast discovery space. The challenger has been coming on strong. In a Q3 2021 earnings call, the company cited Edison Research and internal tracking to proclaim Spotify the No. 1 podcast platform in the United States, squeaking by Apple in monthly listeners. Now, Spotify is hoping that its ratings will help create its own heat-seeking list, comparable to Apple Podcasts' "New and Noteworthy" curated list.
"Ratings are a great way for prospective listeners to quickly gauge a show's quality," a representative from Spotify told TechCrunch, "but at this point (as we're in early days for this feature), a show's rating is not factored into podcast charts or personalized recommendations."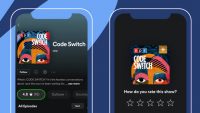 It's all just data points to an algorithm, so ratings are eventually likely to be factored in various ways. It makes sense for Spotify to leverage the type of free promotion Apple gets from armies of hosts stating reflexively, with the credit roll, "if you like this show, please review us on Apple Podcasts, or wherever…" Newer to the podcast game, Spotify hasn't had much of that.
"YouTube, TikTok and other creative platforms show potential audience members, right off the bat, how many followers you have. But you don't know how many downloads and subscribers a podcast has unless the podcaster tells you," writes TechCrunch. To that extent, ratings are a measure of popularity.
And while TechCrunch also takes care to present a contrarian view ("podcasters are wary about how much star ratings actually help"), it also quotes Eric Silver, head of creative at Multitude Productions, as saying that he "will probably encourage listeners to rate Multitude shows on Spotify, at least for a few weeks."
Spotify now claims more than 3.2 million podcasts and says in an announcement that ratings will be a navigational plus. In April, Spotify had "over 2.2 million podcasts to choose from." It has been growing steadily. and eMarketer predicts Spotify will have a U.S. podcast audience of 43.6 million listeners by 2025. In November, Spotify made podcasting services available in 33 markets worldwide, according to 9to5Mac.
TechCrunch reports the Sweden-based company last week purchased Whooshkaa, "an Australia-based all-in-one platform for hosting, managing, distributing, promoting, monetizing and measuring podcasts."
Competition among streaming podcast apps includes Google Podcasts, Amazon's Audible, and Stitcher, owned by SiriusXM.
Topics:
Amazon
,
App
,
Apple Podcasts
,
Audible
,
Audience Measurement
,
Australia
,
Download
,
Edison Research
,
Eric Silver
,
Google Podcasts
,
Multitude Productions
,
Music
,
Podcast
,
Podcasting
,
Ratings
,
Recommendation
,
SiriusXM
,
Spotify
,
Stitcher
,
Streaming
,
Subscriber
,
Subscription
,
TikTok
,
Whooshkaa
,
YouTube