Sony's newest cameras, the Alpha 7 and 7R, are what the company calls "the world's smallest full-frame interchangeable lens models" — and they're threatening the bulky DSLRs that have been standard for years. The full-frame sensored cameras weigh only about a pound each, yet they record images that are equal in detail and sharpness to those from larger models like the D800 and the Canon 5D Mark III. The new Sony cameras will be on the market in December.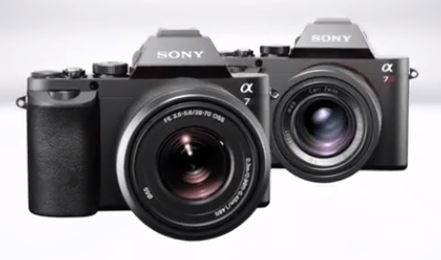 The Alpha 7 — which starts at $1,999.99 with a kit lens — includes a 24.3-megapixel sensor with an ISO range up to 25,600, 14-bit RAW image output, and shooting at five frames per second. It also captures 1080p video at 60 or 24 frames per second. The 7R — starting at $2,299.99 — adds a 36.3-megapixel sensor with great resolution, according to The Verge.
The professional-grade cameras will come with plenty of accessories, including options for high-end interchangeable lenses. Both models feature 2.4-million-dot OLED viewfinders and 3-inch, 1.23-million-dot tilting LCDs. In terms of branding, Sony plans to phase out its NEX line and replace it with the Alpha name.
The design of the cameras includes a black body with front and rear dials and a leathery grip. The viewfinder sticks out prominently, which The Verge says is a "design flourish" added for looks and comfort.
But the size of the camera is Sony's biggest design accomplishment, delivering just as much quality as larger DSLRs — in a smaller, lighter package.
"Both are coming in December," notes The Verge, "and both are coming for the big, clunky, ugly DSLRs we're all too tired of carrying around. Whether or not Sony's really achieved the seemingly impossible, we'll know soon, but the company's drawn a line in the sand, saying loudly that great cameras don't have to be big anymore."
The post includes a photo gallery and Sony's 2-minute video release.
Topics:
1080p
,
35mm
,
5D
,
Alpha
,
Alpha 7
,
Alpha 7R
,
Camera
,
Canon
,
D800
,
Design
,
DSLR
,
E-mount
,
Full Frame Sensor
,
HD
,
Image
,
Interchangeable Lens
,
ISO
,
LCD
,
Lens
,
Lighweight
,
Mark III
,
Micro Four Thirds
,
NEX
,
OLED
,
Photo
,
Photography
,
RAW
,
Redesign
,
Sensor
,
Size
,
Sony
,
Sony Alpha
,
The Verge
,
Video
,
Viewfinder
,
Weight
,
Zeiss