Sony Electronics debuted the Cognitive Processor XR, a new type of image processor that will be incorporated in its new Bravia XR LED and OLED TVs. According to Sony Electronics president and chief executive Mike Fasulo, the new processor surveys the entire frame in real time, breaking down specific zones to concentrate on — such as realistic skin tone — as a way to mimic how our brains process images. Sony global display and processor expert Kazuo Kii says the Cognitive Processor XR will aid the TVs' 8K performance.
Engadget reports that, "given the dearth of content in that resolution, Sony's 8K Master Series Z9J TVs (below, available in 75-inch and 85-inch sizes) will rely on XR upscaling to help HD and 4K content take advantage of those extra pixels." Kii said the "focus on cognitive intelligence is particularly useful for 8K TVs … because it allows Sony to focus processing work on the parts of the image that matters." To do so for an entire 8K screen would "require an even more powerful processor."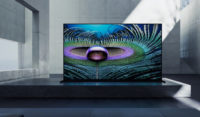 In addition to the Z9J TV, the Cognitive Processor XR will also be integrated into Sony's Master Series A90J and A80J 4K OLED TVs, and its X95J and X90J 4K LED sets.
This year, all Sony TVs feature "Google TV as their built-in OS, hands-free Google Assistant, and support for Amazon's Alexa" as well as HDMI 2.1, which means support for 4K at 120fps, eARC (enhanced audio return channel) and variable refresh rates for next-gen gaming consoles. Kii stated that Sony is "exploring" Mini-LED technology but "didn't have anything to announce just yet."
The Verge reports that all of Sony's Bravia XR 4K and 8K TVs support 4K at 120Hz, VRR (variable refresh rate), ALLM (auto low latency mode), and eARC," unlike last year's models. Sony made the case that its Cognitive Processor XR goes beyond artificial intelligence.
"While conventional artificial intelligence can only detect and analyze picture elements like color, contrast and detail individually, the new processor can cross-analyze an array of elements at once, just as our brains do," the company said in its press release. The company also notes that a "Sound-from-Picture Reality" feature in the processor can "align the position of the sound with the images on the screen to offer a uniquely lifelike experience."
Sony's new Master Series' TVs also have "a new sensor for detecting the color temperature of the ambient light in your room, and this lets them automatically adjust the TV's white balance to match." The OLED version also "has brighter output than Sony's past OLEDs thanks to a new aluminum heat shield attached to the panel." All the TVs also support Dolby Vision HDR.
Information on availability and pricing will be announced in the spring.
Click here for more information on the speakers, panels and new products at CES 2021 (#CES2021).