Sony Electronics is launching a new line of monitors and headphones under the brand name INZONE, which has drawn notice for being marketed to gamers but manufactured by a division other than Sony Interactive Entertainment, home of the PlayStation and related products. That's because the INZONE line is designed to be platform agnostic and seeks traction beyond PS5. The headphones come in three models touting 360 Spatial Sound for Gaming: the entry-level wired H3 for $100 and the wireless H7 and H9 ($230 and $300, respectively). INZONE's debut monitor line features the deluxe 27-inch 4K M9 ($900) and the 27-inch Full HD M3 ($530).

"After using a handful of INZONE's new peripherals for about a week, it really feels like you're getting a great mix of tech from two different branches of Sony," says an Engadget reviewer.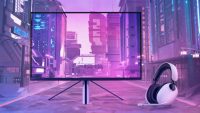 The Verge calls the M9 "the flagship product" of the line, "made for PC but with specs to take full advantage of the PS5, along with Microsoft's Xbox Series X," going on to note the 4K IPS gaming monitor is "built to match the aesthetic of the PS5 while having basically every imaginable spec that gamers may universally want, sans OLED panel."
With a 144Hz refresh rate (that The Verge says is "not so common" in a 4K screen), the M9 also boasts a 1ms response time along with "variable refresh rate (VRR, both for consoles and with G-Sync compatibility for Nvidia GPUs), plus DisplayPort and HDMI 2.1 ports." Video display can also be accommodated via a USB-C port.
"The M9's biggest advantage is its full-array local dimming (FALD) which is made up of 96 different lighting zones compared to just eight or 16 on competitors like the LG 27GP950 or the Samsung S28AG700," according to Engadget. Sony isn't including video cables with the $899 M9 monitor, which The Verge calls "a mind-boggling move" attributed by a Sony spokeswoman to the fact that "the required cable type, version, and length are different based on a customer's use case."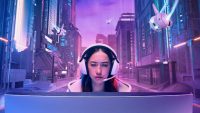 The intra division cooperation between Sony units means all three INZONE headsets support the Tempest 3D audio engine on the PS5 (used on the console brand's official Pulse 3D headphones). The dual-mode wireless connectivity of the H7 and H9 is available through Bluetooth and a dedicated 2.4GHz dongle.
Both models offer a "more streamlined design and strong battery life," writes Engadget, noting "the H9 also feature digital noise canceling using the same tech as Sony's 1000X line."
For more details, visit the INZONE product line site and the Sony press release.
Related:
Sony Inzone M9 27-Inch 4K Monitor Review, Tom's Hardware, 6/28/22
Sony Inzone M9 Review: The Closest Thing to a PS5 Gaming Monitor, IGN, 6/28/22
Sony Has Another PlayStation 5 Restock, The Verge, 6/28/22
Pre-Order Sony Inzone PS5 Monitors, GamesRadar, 6/29/22
Topics:
360 Spatial Sound
,
4K
,
Audio
,
Bluetooth
,
Dongle
,
FALD
,
Gaming
,
HDMI 2.1
,
Headphones
,
INZONE
,
LG
,
Microsoft
,
Monitor
,
Noise Canceling
,
Nvidia G-Sync
,
OLED
,
PlayStation 5
,
PS5
,
Pulse 3D
,
Samsung
,
Sony 1000X
,
Sony Electronics
,
Sony Interactive Entertainment
,
Tempest
,
USB-C
,
Wireless
,
Xbox Series X