Meta Platforms is facing a backlash based on the fees it is charging virtual reality developers for access to its Meta Quest Store, which uses a financial model similar to that of leading mobile app stores. The Meta Quest Store supports the leading consumer market VR headset, the Quest 2, and reportedly demands 30 percent from digital purchases and anywhere from 15 percent to 30 percent on subscription sales, which is comparable to Apple and Android store fees. Because Meta CEO Mark Zuckerberg previously criticized those companies' fee structures, he's being labeled a hypocrite by those opposing the charges.
Developer outrage is fueled by Zuckerberg's promises to invest at least $10 billion a year through 2030 to develop the metaverse and a multibillion-dollar consumer market around it. Meta's projected investment "is spurred by a desire to own the next computing platform and avoid being trapped by rules set by Big Tech rivals, as it has been by Apple and Google with their respective mobile app stores," writes The Financial Times.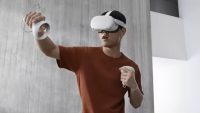 However, developers see it as a mendacious attempt to bleed the independents whose products will be necessary to support maturation of any metaverse and a VR market beyond gamers and some enterprise.
The timing is surprising in that Apple has been hit with lawsuits and vigorous European Union policing over its App Store developer fees. Last year Google cut fees for Android developers as a result regulatory scrutiny and an antitrust lawsuit filed by 36 states and the District of Columbia.
"Indeed, the total Meta cut of some digital sales in the metaverse is close to 50 percent," writes 9to5Mac, explaining that "Meta is taking a cut of up to 47.5 percent on digital assets sold within its virtual reality platform, "Horizon Worlds" … a free VR game that lets users build and explore virtual worlds. While it's all part of Meta's plan for creating its virtual 'metaverse,' it comes at a cost to creators."
"Undoubtedly there are services provided — they build amazing hardware and provide store services." Realities.io CEO Daniel Sproll said in The Financial Times, adding that "the problem is that it feels like everybody agreed on this 30 percent and that's what we're struck with. It doesn't feel like there's any competition." Immersive startup Realities.io created the "Puzzling Places" VR game.
Meta defended its policies in The Financial Times, citing side-loading options: "unlike iPhone owners, Quest users can install apps outside its official store through SideQuest, a third-party app store, or make use of App Lab, its less restricted, more experimental app store."
Related:
Meta Sparks Anger by Charging for VR Apps, Ars Technica, 6/29/22
Topics:
Android
,
Antitrust
,
App Lab
,
App Store
,
Apple
,
Apps
,
Big Tech
,
Daniel Sproll
,
Developers
,
European Union
,
Google
,
Horizon Worlds
,
iPhone
,
Lawsuits
,
Mark Zuckerberg
,
Meta Platforms
,
Metaverse
,
Mobile Apps
,
Puzzling Places
,
Quest Store
,
Realities.io
,
Side-Loading
,
SideQuest
,
Subscriptions
,
Virtual Reality
,
VR Games
,
VR Headsets