Houston-based SnapStream offers a line of DVR devices that are highly scalable and can go well beyond consumer DVR functionality. These devices have the ability to use 30+ channels to record a large collection of TV programming simultaneously, create clips and share via the cloud. SnapStream products are being used in the media industry in addition to other non-media industries that have a need to record and catalog video — for example: government, schools and the military.
"It's basically an industrial-strength DVR that lets you monitor your local and national TV coverage," explains the SnapStream homepage. "Record multiple TV channels at once. Search TV by keyword to find anything said on TV. Create unlimited TV clips and share them in the cloud. It's that easy with SnapStream's TV monitoring technology."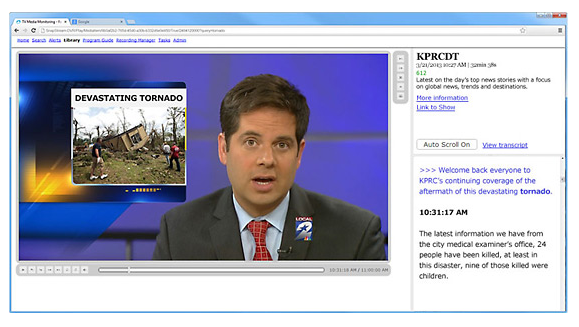 "Popular shows like 'The Colbert Report,' 'The Daily Show,' 'The Soup,' and tons of others are customers, using 30+ channel DVRs to record dozens and dozens of TV shows simultaneously in order to integrate clips from those recorded shows into their own," explains Ars Technica.
SnapStream works closely with media production companies and its DVRs can do more than just record TV, they can operate in groups or clusters, and can repackage, transcode and distribute content for re-use.
SnapStream initially began as Beyond TV, an early HTPC Windows application that allowed users to record cable TV to their computers, but later started looking at companies using TVs and DVRs in corporate settings. Prior to SnapStream, most businesses used single DVRs for recording, but SnapStream's approach was to consolidate and scale up.
In order to locate important key points of information from recorded shows, the device scans the closed caption data and can search the entire recorded library for video or segments based on keywords in the closed captioning. Through SnapStream's Web interface, users can search by keywords and are shown search results in a Google-like format and can share the selection of the video with others.
"A lot of what our solution does is what [cable providers ] don't want you to do — I want to record this at one central place and view it at thousands of different locations, or take a portion of it and e-mail it out," explains Aaron Thompson, SnapStream's president. "That's exactly what the limitations [on consumer DVRs] are there to prevent."
"As long as the open recording and sharing of full broadcast-resolution TV stays in the realm of the media production companies making the TV in the first place, no one gets upset," reports Lee Hutchinson of Ars Technica. "And SnapStream let me know that they currently have no private individuals as customers."
Although SnapStream is primarily used in media production, law enforcement agencies, universities, state and federal governments are using the service to not only record video, but to monitor it. For example, local agencies search the closed captioning and receive alerts from key words, such as "breaking news" from TVs news or other key terms from other recorded video.
SnapStream is ready for the future of video as it has a plan for connecting with HDMI interfaces when cable boxes move to HDMI. However, the company believes the next shift will be recording content from the Internet instead of from cable.
Topics:
Broadcast
,
Cable
,
Caption
,
Cloud
,
Colbert Report
,
Consumer
,
Daily Show
,
Device
,
DVR
,
Education
,
Enforcement
,
Google
,
Government
,
HDMI
,
HTPC
,
Interface
,
Law
,
Lee Hutchinson
,
Military
,
Monitor
,
Monitoring
,
Record
,
Recording
,
School
,
Search
,
Share
,
SnapStream
,
Television
,
The Soup
,
Thompson
,
TiVo
,
TV
,
Video