Snapchat, rebranded Snap Inc. to acknowledge the company is now more than an app, debuted its first hardware product. Spectacles one-size-fits-all sunglasses in black, teal or coral can record up to 10 seconds of video from the wearer's first-person point of view. The user is able to record video hands-free, and the camera, which relies on a 115-degree-angle lens, also gives a wider image that more closely mimics our natural field of view, even to the point of being circular. Spectacles is priced at $129.99.
The Wall Street Journal quotes Snap chief executive Evan Spiegel as saying that watching his own footage of a Big Sur vacation was "the closest I'd ever come to feeling like I was there again." But Spiegel, who also refers to Spectacles as "a toy," reports the rollout will be slow.
"It's about us figuring out if it fits into people's lives and seeing how they like it," he said.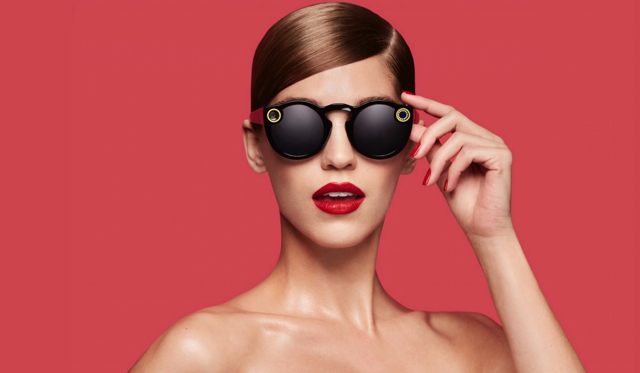 The concept, notes WSJ, is that Spectacles enables "ephemeral conversations conducted through images" for its users, who make up 60 percent of 13-to-34 year old smartphone users. These users also use Snapchat to "annotate photos and videos by adding text, a quick finger drawing or a variety of predesigned embellishments."
For the younger generation, says WSJ, "Snapchat has essentially become what television was for baby boomers."
"It's not about an accumulation of photos defining who you are," said Spiegel, who has studied the histories of Kodak and Polaroid. "It's about instant expression and who you are right now. Internet-connected photography is really a reinvention of the camera. And what it does is allow you to share your experience of the world while also seeing everyone else's experience of the world, everywhere, all the time."
The New York Times points out the significance of Spectacles to Snap's overall business strategy. The company showed its reach with its coverage of the Rio Olympics, drawing 35 million viewers on a dedicated channel in Discover.
"NBC did an amazing job, but Snapchat filled the void when it came to creating mobile content for this major world event," said merchant bank LionTree founder/chief executive Aryeh Bourkoff. Snapchat investor Hermant Taneja asserts that, "Snapchat is the company that will figure out how to move TV viewers to mobile … Snapchat is the first to crack how users behave on mobile."
That requires a steady stream of content, which Spectacles will help enable, especially for the "more than two-thirds" of the company's 150 million daily users who create content daily. Media companies like CNN and BuzzFeed, celebrities and advertisers are flocking to Snapchat's "growing audience, which, the company says, includes 41 percent of Americans ages 18 to 34."
The company plans more original programs; time will tell how the company will leverage the "you are there" video created by Spectacles users.
Topics:
App
,
Aryeh Bourkoff
,
BuzzFeed
,
Camera
,
CNN
,
Discover
,
Evan Spiegel
,
Eyewear
,
First Person
,
Glasses
,
Google Glass
,
Hermant Taneja
,
Kodak
,
LionTree
,
Mobile
,
Photo
,
Photography
,
Polaroid
,
POV
,
Rio Olympics
,
Smartphone
,
Snap Inc.
,
Snapchat
,
Social Media
,
Spectacles
,
Video
,
Wearable