San Francisco-based startup Smule has 125 million members worldwide who use its 18 social music-making apps. Users are able to record and share covers and originals, and even sing duets with people halfway across the globe. The apps have spawned online communities featuring music that ranges in quality from YouTube amateurs to artists on the radio. Earlier this month, the company unveiled Smule Nation, a revamped website that makes select performances accessible online by anyone.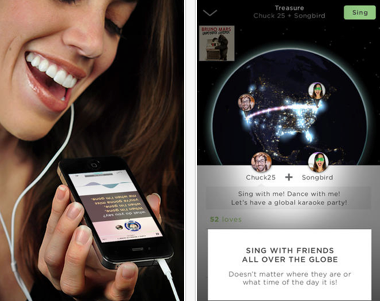 "In addition to posting their own songs, users can follow and sample tracks from their favorite Smule artists, making sharing easier than it is in the confines of the apps," reports Businessweek. "It's a big step for the company, whose apps previously were usable only on mobile devices, and could lead to an even broader audience."
"Most of the songs are quite bad, but some are pretty good, and now we're enabling people all over the world to listen to them," says Smule CEO Jeff Smith. "We're making the Internet a big campfire."
Smule apps include Guitar!, Sing! Karaoke (pictured here), Magic Piano, AutoRap and others.
"Perry Cook, a retired Princeton University music professor and a member of Smule's advisory board, says the company's apps fit into the tradition of digital home recording studios and synthesizers — tools that radically democratized music-making in the 1970s and '80s," explains the article.
"We've never had anything like this, except maybe Friday afternoons when drummers gather together at the marina and bring their instruments," says Cook.
Smule's apps are free, and the company generates revenue from ads and ad free subscriptions. Heavy users can pay $40 per month to store an unlimited number of songs on the startup's server, whereas free users are permitted 100 songs. Smith estimates that Smule will generate $20 million dollars this year, which is up from $12 million last year and $6 million in 2011.
"Smith, whose 70-employee office is littered with drum kits and acoustic guitars, has raised $25 million from venture capital funds including Bessemer Venture Partners and Shasta Ventures. One of his biggest expenses so far has been securing music licenses from record labels," notes Businessweek.
Some well known artists such as country group Lady Antebellum and teen singer Austin Mahone use the app to connect with fans. Also, some reality TV shows such as "American Idol" and "The Voice" have contacted Smith about using the app to screen auditions.
Topics:
American Idol
,
App
,
California
,
Freestyle
,
Guitar
,
Jeff Smith
,
Label
,
Lady Antebellum
,
Licensing
,
Mobile
,
Music
,
Musician
,
Perry Cook
,
Piano
,
Radio
,
Rap
,
Record
,
Revenue
,
San Francisco
,
Share
,
Sharing
,
Singer
,
Smule
,
Smule Nation
,
Social
,
Social Network
,
Song
,
Startup
,
synthesizers
,
The Voice
,
VC
,
Venture Capital
,
Video
,
YouTube