Many cars made today are embedded with new technologies, which are leading to partnerships between auto manufacturers and wireless companies. These agreements are resulting in vehicles with always-on, fast wireless connectivity, providing the groundwork for new services, such as smartphones integrating with cars, and perhaps car-to-car communication. But with new forms of connectivity come new distractions and potential dangers.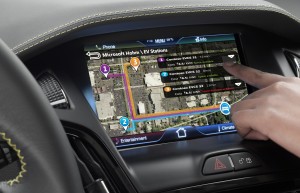 On Tuesday, the third-largest wireless provider in the U.S., Sprint, announced a service that will allow car manufacturers to easily connect a smartphone to the vehicle's computer system. It is called Sprint Velocity, and it is designed to support machine-to-machine, or car-to-smartphone communications, allowing a smartphone to adjust the vehicle's climate control or send directions to a dashboard navigation system.
The Sprint platform also uses IBM software, called MobileFirst to manage connections between the car and outside technologies, and GM will outfit most of its vehicles with AT&T's 4G capability by 2014. With such technologies, cars can report on road conditions to the driver or the automaker with regularity.
"You might, for example, get a reading off a car that indicates that the vehicle is slipping on ice," explains Michael Curry, IBM VP of applications integration middleware. "That might feed back to a central network, and when the car manufacturer realizes that car is slipping, they may say, 'Do we have other cars in that area that might be impacted?' and send a notification to those vehicles or maybe even automatically put those cars into winter mode."
Wireless connectivity in cars is not new. It was first introduced in 1996 when GM released the OnStar system, providing emergency and driver support. Ford offers Sync (pictured above), a slightly different system designed by Microsoft that connects to a cell phone, and uses its modem to communicate.
The "connected vehicle" market is anticipated to grow, reports the GSMA wireless industry body, with sales worth $53 billion by 2018, up from $17 billion in 2012.
A growth in the risk of distracted driving is also anticipated as cars adopt these technologies. In June, AAA conducted a study that found that voice-controlled apps can have the same effects as texting while driving.
"In April, the National Highway Traffic Safety Administration released guidelines for limiting the functions of electronic systems in cars," notes MIT Technology Review. "Defining distraction can be difficult, though. The new guidelines, for example, don't apply to smartphones or other devices connected to a car's 'infotainment' system."
Other concerns are whether this increased connectivity will attract hackers. In 2011, researchers demonstrated that it was possible to hack into a vehicle's system through a wireless connection, resulting in car manufacturers investing in security.
Topics:
4G
,
AAA
,
Android
,
AT&T
,
Automobile Club
,
Car
,
Cell Phone
,
Chevrolet
,
Communication
,
Connectivity
,
distraction
,
Ford
,
General Motors
,
GM
,
Hacker
,
IBM
,
iPhone
,
Microsoft
,
OnStar
,
Safety
,
Security
,
Smartphone
,
Sprint
,
Sync
,
Texting
,
Vehicle
,
Wireless