When the COVID-19 pandemic began in the U.S., companies sent their employees home to work. Since then, the return-to-work date changed from "a few weeks" to September, and then January. Now, with the virus still problematic in many parts of the country, Google became the first to tell employees they'll be back July 2021, followed by Airbnb, Slack and Uber and, more recently, Ford Motor Company. Microsoft, Target and The New York Times also plan to return in summer 2021, while Dropbox has made remote working the default for employees.
The New York Times reports that DocuSign chief people officer Joan Burke said the company "bit the bullet" and, in August, said it would "allow its 5,200 employees to work from home until June 2021." "We're still in a place where this is evolving," she said. "None of us have all the answers." A study by Wakefield Research, commissioned by Envoy, found that, "73 percent of U.S. employees fear[ed] that being in their workplace could pose a risk to their personal health and safety."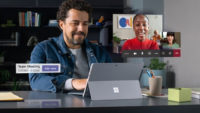 Other companies have decided to create permanent remote working policies, including Facebook, which in May said employees could continue to work from home even when the pandemic wasn't an issue. It was followed by Twitter, Coinbase, Shopify and, most recently, Microsoft.
But Harvard Business School professor Tsedal Neeley said postponing return-to-work plans is a "psychological blow for those who expected this to be a transition phase," comparing it to "waiting at an airport terminal for a flight that is continually delayed." She added that companies are successful when they "think about long-term strategy rather than 'Let's just survive our crisis'."
Corporations are now "following the lead of Silicon Valley tech companies like Google and Facebook." The few companies that have brought employees back to work have endured setbacks, such as Goldman Sachs and JPMorgan which, after reopening last month, had some workers test positive for the virus.
Bloomberg reports that Dropbox said it is now a "Virtual First" company, meaning that remote work is "the primary, day-to-day default for its employees." "Though we make software that helps people work from anywhere, most of our employees came to an office every day," said the company on its website. "We believe the data shows the shift to remote work, though abrupt, has been successful overall."
Acknowledging that back-to-back video conferences and isolation are challenges of remote work, Dropbox "plans to facilitate in-person collaboration with existing real-estate or other flexible spaces it's calling 'Dropbox Studios' … in all locations we currently have offices." To that end, it will "allow some employees the flexibility to relocate to locations where it currently does not have offices." The mandatory remote working policy will last through June 2021.
Topics:
Airbnb
,
Coinbase
,
Coronavirus
,
COVID-19
,
DocuSign
,
Dropbox
,
Dropbox Studios
,
Envoy
,
Facebook
,
Ford Motor Company
,
Goldman Sachs
,
Google
,
Harvard Business School
,
Joan Burke
,
JPMorgan
,
Microsoft
,
Remote Working
,
Shopify
,
Slack
,
Target
,
The New York Times
,
Tsedal Neeley
,
Twitter
,
Uber
,
Virtual First
,
Wakefield Research