SIGGRAPH 2015, the interdisciplinary conference on the latest computer graphics and interactive techniques, is underway at the LA Convention Center and runs through August 13. SIGGRAPHis unique as a trade event because it showcases both the state of the art in professional production as well as being one of the best places in the world to see and experience emerging technologies, talent and academic research. The conference theme, "XRoads of Discovery," and the selection of Joichi Ito, director of the MIT Media Lab as the conference keynote speaker, underscore the future look.
ETCentric and our Daily News Brief plan to feature expanded coverage of SIGGRAPH this week.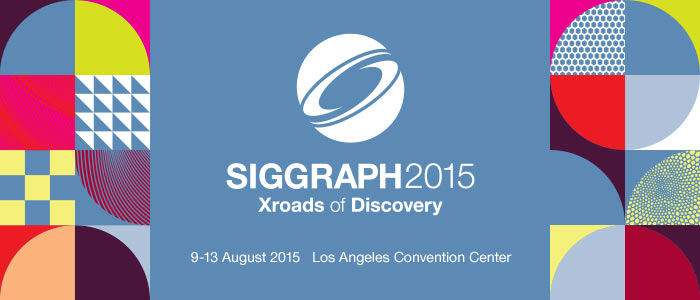 Ito delivers his keynote talk on Monday. As director of the MIT Media Lab, Ito explores how radical new approaches to science and technology can transform society.
The SIGGRAPH exhibition floor opens on Tuesday. The growing importance of virtual reality and the evolution of visual effects, animation and game development to encompass it, inspired SIGGRAPH to debut the VR Village program, featuring "real-time immersion in the latest virtual and augmented realities, including Nomadic Virtual Reality (VR), Tabletop Augmented Reality (AR), Full-Dome Cinema, and live performances and demonstrations in a 360-degree immersion dome."
According to the program notes, "The VR Village at SIGGRAPH allows attendees to explore the fascinating potential of VR, AR and Immersive Environments as a means for telling stories, engaging audiences, and powering real-world applications in health, education, design, and gaming. The curated programming offers a wide range of content from major studios and game developers to non-profit institutions, including research labs and planetariums."
SIGGRAPH 2015 VR Village highlights include:
A virtual screening room for cutting-edge VR, AR and Immersive Media programming.
Nomadic VR Arena: A walk-about space that allows participants to freely explore immersive virtual environments with untethered headsets. Programming includes:
Real Virtuality: Immersive Explorers – Multiple users explore the recreated interior of a pharaoh's tomb while interacting with 3D objects and other users.
C.A.P.E. (Computer Assisted Personal Environment) – C.A.P.E. is a configuration developed by CREW, EDM/UHasselt and Dreamspace where people can move and walk the "immersant" experiences of the virtual world from your own body.
Holojam – Share a virtual space and see each other as stylized avatars; draw shapes in the air with a magic wand and contribute to 3D sculptural artwork.
Head-Mounted Display Stations: Attendees can experience the latest in VR and AR programming in sit-down and stand-up stations. Programming includes:
Neuro – A VR journey through the brain of world-renown musician Reuben Wu.
LoVR – A story of love told through neural activity captured over four seconds; Experience two lovers when they see each other for the first time.
Immersion Dome: The dome is a 360-degree screening room for the world's best visualization and cinema storytelling. Programming includes:
Dynamic Earth: Coronal Mass Ejection and Ocean/Wind Circulation – Follow energy from the sun towards the earth; where atmosphere and oceans are explored.
Immersive Visualizations from the California Academy of Sciences – Experience the 1906 San Francisco earthquake; explore the earth's ecosystems over the millennia.
Moderated Talks
A series of moderated talks will take place around the theme of "VR: Creating at the Edge." Speakers include executives from Walt Disney Imagineering R&D, Sony's PlayStation Magic Lab, Emblematic Group and Jaunt Studios.
SIGGRAPH organizers also highlight these other "Must See" areas:
Emerging Technologies: A showcase of the latest interactive and graphics technologies that include 3D, virtual reality, and projection mapping.
Computer Animation Festival: Watch the world's most innovative and amazing digital film and video shorts.
Studio: See and touch projects from alternative fields that utilize and build new foundations in computer graphics.
Games: Preview the hottest games and talk with the minds behind critically acclaimed titles, including: "Witcher 3: Wild Hunt," "Deus EX: Mankind Divided," and "Rise of the Tomb Raider."
Art Gallery: An exhibit of 15 curated pieces that integrate craft techniques and contemporary digital design.
Production Sessions: Go behind the scenes with the top special effects companies behind films such as "Jurassic World," "Ant-Man," "Avengers: Age of Ultron," and "Inside Out."
There will be a special presentation to celebrate Industrial Light & Magic's 40th anniversary on Monday, August 10.
For more information on SIGGRAPH 2015, visit the conference website and look for updates on ETCentric and in our Daily News Briefs throughout the week.
Topics:
3D
,
Animation
,
AR
,
Augmented Reality
,
Avatars
,
CGI
,
Design
,
Disney
,
Education
,
Emblematic Group
,
Gaming
,
Health
,
HMD
,
ILM
,
Interactive
,
Jaunt Studios
,
Joichi Ito
,
Jurassic World
,
Los Angeles
,
Lucasfilm
,
MIT
,
MIT Media Lab
,
PlayStation Magic Lab
,
Post Production
,
Production
,
Reuben Wu
,
SIGGRAPH
,
SIGGRAPH 2015
,
Sony
,
Tomb Raider
,
VFX
,
Video
,
Virtual Reality
,
Visual Effects
,
VR
,
WDI