To address complaints that theater screens are too dark, especially when showing 3D films, the digital cinema industry is experimenting with laser technology. Advocates of laser-illuminated projection assert that benefits include lower operating costs, reduced power consumption and increased system lifespans. However, others are concerned that the cost may be too exorbitant and fear the involvement of the FDA, since it monitors the use of lasers.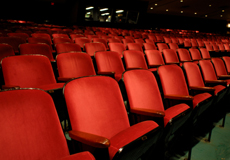 "To address these issues, projector maker NEC plans to demonstrate a new laser-light source projector aggressively priced at $38,000 and targeted to exhibitors with small screens up to 36 ft.," writes Carolyn Giardina for The Hollywood Reporter. "Scheduled to become available in March, the new NC1100L 2K projector is being developed to offer brightness of 14-ft-L (using a 1.8 gain screen) with 10,000 lumens of light — a low enough number that the projector won't require FDA approval."
Jim Reisteter, GM of digital cinema at NEC Display Solutions, is enthusiastic about this option, and thinks it is attractive for its aggressive price and 20,000 hours of expected light source usage. He is interested in Latin America and the U.S. as potential markets.
To accommodate larger screens, NEC is working with Laser Light Engines. Their task entails retrofitting any NEC Series 2 projector. This technology would require FDA approval, and is being demonstrated in Los Angeles in early November.
"On Wednesday at ShowEast, Christie and Dolby are teaming up for a demonstration featuring Christie's prototype 4K laser projector, fronted by a RealD XL Cinema System and accompanied by Christie Vive Audio speakers and amplifiers configured for Dolby Atmos," notes Giardina.
ETCentric reported in August that Christie received FDA approval to use laser technology in cinema; the first will be installed in Seattle Cinerama in early 2014. The theater is owned by Microsoft co-founder Paul Allen.
Barco has developed a prototype laser projector, but is not confident in the economics of it. Sony is also developing a laser projector, but the company has stated its belief that the market is not yet ripe for such technology.
Topics:
3D
,
Barco
,
Brightness
,
Christie
,
Cinema
,
Cost
,
Digital Cinema
,
Dolby
,
Exhibition
,
FDA
,
Film
,
Laser
,
Laser Light Engines
,
Latin America
,
Lumens
,
Motion Picture
,
Movie
,
NEC
,
Paul Allen
,
Power
,
Projection
,
Projector
,
Screen
,
Screening
,
ShowEast
,
Sony
,
Theater
,
Theatrical