The first commercial installation of a laser movie projector is scheduled for early next year at Seattle Cinerama, a theater owned by Microsoft co-founder Paul Allen. The theater will be the first to acquire Christie Digital's laser projector, as the technology has just been approved by the FDA. While laser projectors are more expensive than current systems, they are expected to improve 3D projection and eliminate the need to replace bulbs and cool projection booths.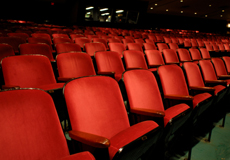 "Seattle Cinerama purchased a 4K digital laser projector, and according to theater manager Greg Wood, they plan for the laser projector to be up and running on their 68-foot wide screen in February or early March 2014, replacing their current Christie Digital projection system," reports Variety.
The laser projector will put out upwards of 60,000 lumens of brightness, according to Christie. Exact light levels "will depend on the theater's choice of screen and 3D hardware, but Christie says the system will exceed current standards for brightness," notes Variety. "Laser-driven projectors are expected to solve many of the problems of dark and muddy imagery that have plagued digital 3D projection throughout the history of the format."
Wood suggests that laser projection is the future of cinema. "We're not doing this behind the scenes to try to save on bulbs or save on money in the long run or anything like that," he said. "This is the best tech out and we want it, so let's grab it."
Christie partnered with Paramount earlier in the year for a screening of "G.I. Joe: Retaliation" at AMC Theaters Burbank 16 to test the technology in a real-world environment.
IMAX will also begin to use laser projectors in 2014, with plans to install projectors developed by Kodak in three of its theaters.
Topics:
3D
,
4K
,
AMC
,
Brightness
,
Christie Digital
,
Cinema
,
Commercial
,
Digital Projection
,
Exhibition
,
FDA
,
G.I. Joe
,
Greg Wood
,
IMAX
,
Kodak
,
Laser
,
Laser Projector
,
Lumens
,
Microsoft
,
movie theatre
,
Paramount
,
Paul Allen
,
Projection
,
Projector
,
Seattle
,
Seattle Cinerama
,
Technology
,
Theater