Nvidia's new Shield is a tablet PC, but also a gaming console for Android game apps, streamed PC games, and games streamed from the Nvidia Grid cloud gaming service. The Wi-Fi tablet can be used as a handheld gaming device or a console that can be plugged into a TV via an HDMI cable. For $299, gamers will get 16 gigabytes of storage and perhaps some of the best image-rendering technology on the market. The Shield tablet will start shipping at the end of July.
The device has some fairly standard features, such as an 8-inch display, front facing speakers, and front and rear cameras. However, that 8-inch display has superior graphics thanks to the Tegra K1 chipset, which has a graphics chip with 192 processor cores. The display also has impressive 3D capabilities.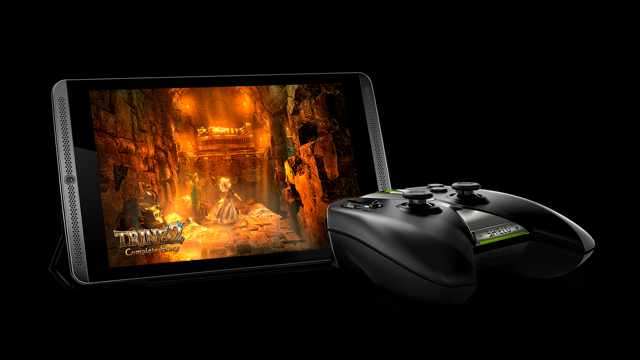 "The Shield tablet's Nvidia Tegra K1 mobile processor taps into the same Nvidia Kepler architecture that drives the world's most extreme gaming PCs," explains the product site. "With a custom engineered thermal system, Shield tablet harnesses the full power of Tegra K1's extreme performance."
The Shield tablet comes with several popular Google apps, including Google Play, Google Maps, and others. The entire system runs on Google's Android KitKat operating system. It comes with a stylus and a preloaded drawing app called Dabbler.
Nvidia also introduced a new controller that is compatible with the new tablet. The Wall Street Journal calls it "a must buy for those who pick up Nividia's slate with gaming in mind." At $59, the tablet and controller are still a competitive price compared to other gaming consoles. PlayStation 4 and Xbox One sell for $400 while the Asus Nexus 7 tablet and Amazon Kindle sell for about $200.
Nvidia plans to offer another edition of the Shield tablet later this year that will be integrated with LTE and store 32 gigabytes of data. That tablet will sell for $399.
Topics:
3D
,
Amazon Kindle
,
Android
,
Android KitKat
,
App
,
Asus Nexus 7
,
Camera
,
Cloud
,
Console
,
Controller
,
Dabbler
,
Gamer
,
Gaming
,
Google
,
Google Maps
,
Google Play
,
Graphics
,
HDMI
,
LTE
,
Nvidia GRID
,
PC Games
,
PlayStation 4
,
SHIELD Tablet
,
Storage
,
Streaming
,
Stylus
,
Tegra K1
,
Television
,
Video
,
Xbox One