Samsung Electronics America announced that it is now taking orders on its 105-inch curved Ultra HD LED LCD TV, which offers 5,120 x 2,160 resolution (11 million pixels) and features a cinematic aspect ratio. The massive curved set will be built to order for a suggested retail price of $119,999. Each sale will be supported by Samsung Elite Service, which includes field engineers being dispatched to customers' homes to explain features and configure the TV for an optimal viewing experience.
Samsung's 105-incher was initially unveiled at CES in January. LG also announced a curved UHD set of the same size, which is expected to be priced around $80,000, although the company has yet to announce availability.
The S9 Series smart TV includes Samsung's Auto Depth Enhancer tech and the company's UHD Dimming and Precision Black high-black-level picture-processing technologies.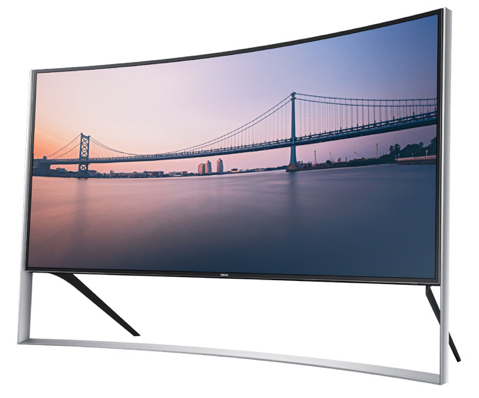 "The set also has a Quad Screen Multi-Link feature that produces four windows on screen to access live TV, streaming video and the Web all at once," reports TWICE. "Other features include Samsung's smart-TV platform with a five-panel Smart Hub design powered by a quad-core processor."
The TV's UHD upscaling is a proprietary process that includes signal analysis, noise reduction, and detail enhancement.
"The introduction and availability of our new 105-inch curved UHD TV represents our unremitting efforts to reshape TV, driven by consumers' passion for entertainment," said Samsung EVP Joe Stinziano. "Made for the premium entertainment lover, the 105-inch curved UHD TV features the most advanced technology and design, a massive movie-theater style UHD screen and a curve that creates the ultimate cinematic experience."
For additional details, visit the model UN105S9W product page.
Topics:
4K
,
Auto Depth Enhancer
,
CES
,
Cinematic Aspect Ratio
,
Curved Screen
,
High Resolution
,
Immersive
,
Joe Stinziano
,
LCD
,
LED
,
LG
,
Live TV
,
Precision Black
,
Quad Screen Multi-Link
,
S9 Series
,
Samsung
,
Samsung Elite Service
,
Smart Hub
,
Smart TV
,
Streaming
,
Television
,
TV
,
UHD
,
UHD Dimming
,
Ultra HD
,
Upscaling
,
Video