3D printing company Shapeways, that creates made-to-order products, has raised $30 million from Andreessen Horowitz, Union Square Ventures, Index Ventures and Lux Capital. With the new financial infusion, the company is planning to build factories and bring on new hires. The investment is also expected to enable more companies and individuals access to high-end 3D printers to create and sell their products.
"We want to build factories that are efficient, and that are as close as possible to our end-users," explains Shapeways co-founder and CEO Peter Weijmarshausen.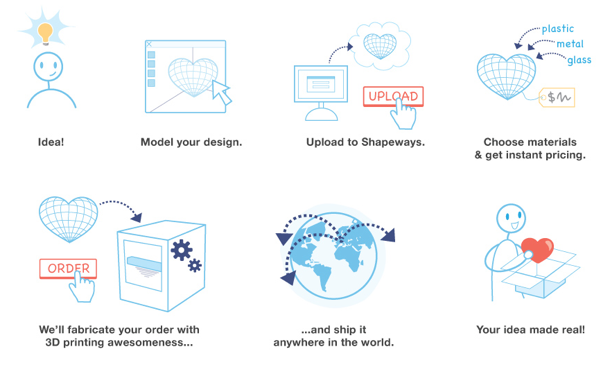 "Shapeways serves as a marketplace for 3D products, letting users shop for printed designs the same way they use Amazon.com for clothes, books and cooking utensils," reports Bloomberg. "The company has printed over 1 million products and is uploading 60,000 new designs a month from users buying and selling products."
The company allows anyone access to their industrial grade 3D printers for a fee, and plans to expand by creating its own marketplace so users can sell their designs. A consumer will purchase the product from a professional designer or hobbyist and then Shapeways will produce and ship the product.
"Shapeways is doing for manufacturing, what the Internet did for self-publishing, making it accessible to everyone, says Chris Dixon, the Andreessen Horowitz general partner who led the firm's investment," notes Wired.
"Technology is at its best when it enables human creativity," notes Dixon.