After postponing the April 26 debut of the Galaxy Fold, Samsung now plans to launch its $1,980 foldable phone in September. The Galaxy Fold's April debut was canceled because of early reviews that pointed out problems with the foldable screens. Samsung has redesigned the phone with a number of significant updates. The company said it will initially release the phone in select markets, as originally planned. The Galaxy Fold was designed to be the world's first widely available foldable smartphone, and should beat a number of competing products in development to market.
Bloomberg reports that, with the Galaxy Fold, Samsung "had bet on its latest innovation to extend its dominance and help revive a stagnating global smartphone market." Since the aborted April launch, Samsung has "redesigned the Galaxy Fold, adjusting the protective film so it wraps around the entire screen and flows into the outer bezels, rendering it impossible to peel off by hand … [and] also re-engineered the hinge, pushing it slightly upward from the screen to help stretch the film further when the phone opens."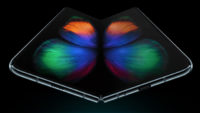 With the Galaxy Fold, Samsung hopes to beat Chinese competitors Xiaomi and Huawei Technologies to market. Foldable phones are marketed as allowing users to "double their screen real estate while also keeping devices compact enough to fit into a pocket … but analysts say it's unclear whether companies can develop apps to fully take advantage of the innovative screen." In June, according to CNBC, Huawei announced its delay of its own foldable phone, Mate X, also to September.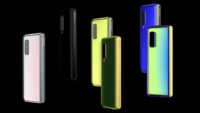 CNET reports that Samsung said it would release the Galaxy Fold "only in select countries, as initially planned … [and] would share specific sale dates as the month nears."
In addition to those mentioned above, fixes include "reinforcements" that prevent debris from "working its way underneath the screen," and so-called protection caps that "strengthen the top and bottom of the hinge area, which had revealed natural gaps where particles could get in" as well as "metal reinforcements beneath the screen (the Infinity Flex Display), presumably to make the plastic screen stiffer." Samsung has reduced the "air gap between the Fold's body and hinge ..worked on improving apps," and is now conducting "final quality control tests."