Samsung Galaxy S8, arriving in stores April 21, sports a high-tech look, featuring a screen that goes from edge to edge, with just a hint of metal at the top and bottom. The screen measures 5.8-inches, compared to the S7's 5.1-inch. The smartphone's virtual assistant Bixby offers voice control, and Samsung is positioning the phone as capable of doubling as a desktop computer. That's a lot of phone, but it's got a price to match, at $720 at Verizon and starting at $750 for AT&T, Sprint and T-Mobile.
The Wall Street Journal adds that, with edges that curve, the new screen offers an aspect ratio of 18.5:9, which means that 16:9 HD videos will be played with black bars on the sides. Another trade-off, due to the bigger screen, is less battery life, "a problem with past Samsung phones." The home button is now part of the screen, which the user activates with "a little haptic jiggle" when pressed. The fingerprint reader is now on the back of the phone.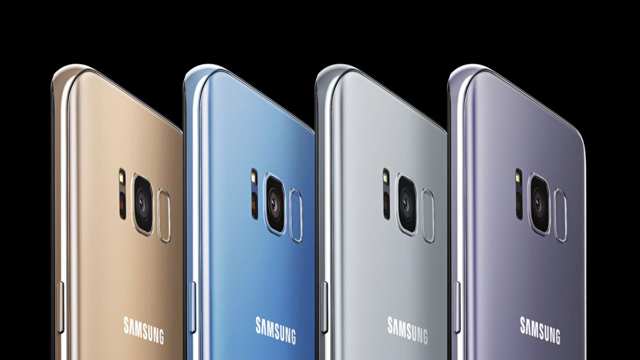 The Galaxy S8 uses USB-C plugs (the new standard) and is water resistant. Samsung's second new model, the S8+, has a screen that measures 6.2-inches diagonally, for about $100 more.
The Bixby virtual assistant is how Samsung hopes to differentiate itself from other Android rivals. Samsung plans to add Bixby to other connected Samsung devices, including TVs and washing machines. With Samsung's modified version of Android, DeX, the Galaxy S8 is also capable of "driving a monitor, mouse and keyboard," another differentiating feature. "One hardware disappointment," however, is the back camera, which is basically the same as the one found on the S7.
Bloomberg notes another upgrade, with regard to facial scanning. That's something available with older Galaxy models but the S8, it says, "is the first Samsung phone to encrypt facial data," which "combined with iris and fingerprint scanning [offers] more security for mobile banking and other sensitive applications."
According to Wired, the S8 is also "the cornerstone of the excellent Gear VR platform," powered by Oculus. A new headset, the first "with a handheld controller, powered by a pair of AAA batteries and equipped with motion sensors, a touchpad, and a trigger button," priced at $130, will ship on the same day the S8 launches.
Oculus' upgraded app will appear on the same day, as well as two-dozen controller-optimized titles, with 50 more in development. The handheld controller will also be sold as a standalone unit for $40 and work with the last version of Gear VR.
Topics:
Android
,
AT&T
,
Battery Life
,
Bixby
,
Desktop PC
,
DeX
,
Facial Recognition
,
Fingerprint Scanning
,
Galaxy
,
Galaxy S8
,
Gear VR
,
Haptic
,
Mobile
,
Motion Sensor
,
Oculus
,
Samsung
,
Samsung Galaxy S8
,
Samsung Gear VR
,
Security
,
Smartphone
,
Sprint
,
T-Mobile
,
Touchpad
,
USB-C
,
Verizon
,
Video
,
Virtual Assistant
,
Virtual Reality
,
Voice Control