Super Bowl 56 is now history, and the massive 70,000-square-foot Samsung Infinity Screen that debuted at the game made history, too. Hanging directly over LA's SoFi Stadium field in an open loop, the Infinity Screen defies categorization. Not only is it the largest stadium display in the world, according to Samsung, but it is designed differently, hanging on the horizontal, with images displayed on the interior and exterior vertical surfaces, so fans can get a clear view no matter where they're sitting. Totaling 80 million pixels, the panels soar as high as 40-feet (about four stories).
"Amazingly, the Infinity Screen is actually longer and wider than the football field that it hangs over — 1.2 times longer and 1.5 times wider, to be exact," reports Digital Trends of the open oval, which it calls a "high-flying marvel of modern technology that's unlike any other stadium screen you've ever seen."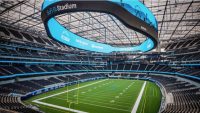 Weighing an estimated 2.2 million pounds, the Infinity Screen also boasts a superior sound system, outfitted with about 260 embedded JBL by Harman speakers, powered by wattage the equivalent to pumping-up 1,500 home theater systems. "Truly immersive, its design is the first-of-its-kind as the only dual-sided, center-hung videoboard," Samsung's Display Division marketing vice president Mark Quiroz wrote on the company blog, which showcases the modern marvel in a promo clip.
Suspended 122 feet above the SoFi field, the 120-yard long Infinity Screen "is a key feature inside SoFi Stadium in Inglewood, California, a massive, reportedly $5 billion facility shared by two NFL teams," writes CNN of the home to the 2022 Super Bowl-winning Los Angeles Rams and the NFL's Los Angeles Chargers.
Though the Infinity Screen was up for SoFi's first game, in September 2020, COVID-19 precautions prevented spectators from attending until April 2021, making Super Bowl 56 "something of a Hollywood premiere after a season of previews" for the spectacular display, CNN writes.
The stakes are raised to make live events compelling, CNN reports, quoting Quiroz as noting, "the home viewing experience has become so good with larger and sharper screens" that venues and tech providers need to "raise the bar on" live events in order "to continually attract fans and guests."
Meanwhile, the NFL continued to experiment, making the 2022 Super Bowl available "to view in an immersive virtual theater run by VR events company Bigscreen in partnership with Meta," according to CNN. Also, those watching on TV were able to use augmented reality functionality "to integrate statistics and icons into the feeds delivered by around 40 cameras capturing the game," courtesy of broadcaster NBC. Pepsi's Halftime Show also made AR features available via a mobile app.