Samsung has picked up Israel- and New York-based TV startup Boxee for about $30 million. Boxee started six years ago by offering PC-based media center software and eventually launched its own hardware product, the Boxee Box. The company attempted to solve its content problem with the launch of the Boxee TV, which was rebranded in April as Boxee Cloud DVR. With the acquisition, Samsung plans to shut down Boxee's unlimited Cloud DVR service on July 10.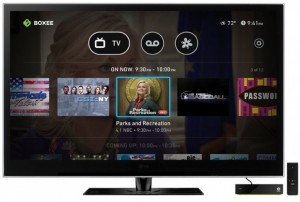 "Joining Samsung means we will be able to work on products that marry the best hardware and software in the TV space, products that will be used by tens of millions of people and will help to shape the future of TV," announced Boxee.
"For Boxee users, we're working behind the scenes to ensure there's minimal impact to your devices. However, the beta Cloud DVR functionality we provided to certain Boxee TV users will be discontinued on July 10th. You will not have access to your existing recordings after that date. We realize many of you loved the service, and we're sorry it won't be available moving forward."
The company launched its Boxee Cloud DVR in April. "That box cost $99 and it included 5 hours of storage per month and the ability to save recordings for up to 90 days," reports Business Insider. Boxee was offering unlimited storage for an additional $10 per month.
"It's probably not shocking that Samsung is shutting it down," suggests BI. "Unlimited cloud DVR storage isn't a sustainable business model."
The deal could be viewed as a preemptive strike against competitors such as Apple TV and Roku.
"Much of Samsung's success on the mobile front is based on Android, but the open-source operating system doesn't carry over to the company's TVs. Instead, Samsung's smart TVs are a mix of homegrown UI and a smattering of apps that many consumers probably don't think about — or use — very much," explains Digital Trends. "That's where this deal makes the most sense. Samsung's smart TV interface isn't all that compelling, but with the purchase of Boxee, it gains one of the best in the biz."
Related Stories:
Streaming Entertainment Startup Boxee Acquired by Samsung for Around $30M, TechCrunch, 7/3/13
Bye-Bye Boxee: How a Startup with Great Ideas and Beautiful Design Failed to Conquer the Living Room, GigaOM, 7/4/13