Chinese tech firm Rokid released is first AR glasses in 2017, and is now making available an attachment called Rokid Station that brings an immersive 215-inch Android TV virtual screen experience to its new Rokid Max augmented reality eyewear. The Rokid Max glasses list for $439, but bundled with the Rokid Station the price is $529 (via preorder). The Rokid Max glasses feature micro OLED screens that can project what appears to be a 215-inch screen positioned about 10 feet from the user, creating the illusion of an immersive viewing experience.
Created by Rokid and HiMedia, the Rokid Station (pictured below) "looks like a bigger Amazon Fire Stick/Android TV/Roku remote and attaches to the glasses with a cable," writes Android Police, citing its "circular direction pad reminiscent of an Amazon Fire Stick remote or an older iPod."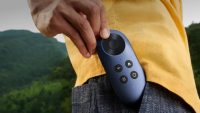 Navigation on the device duplicates that of "an Android TV box like the Nvidia Shield, so you get a home screen with apps optimized for smart devices."
Forbes calls the Rokid Max "one of the best consumer grade AR glasses on the market," and says the Hangzhou-based company has made the first "Google-certified Android TV box for AR glasses."
The "intuitive" navigation pad allows the device "to function as both a remote for movie enjoyment and a gaming controller, ensuring a seamless and distraction-free user experience," Rokid explains in a press release.
When paired with the Rokid Max glasses, the Station replicates "the immersive experience of a full-sized cinema" in the form of a 215-inch virtual screen courtesy of a device "weighing just 75 grams," Rokid writes, noting the OLED display is powered by Sony Semiconductor Solutions and offers "vibrant colors and deep contrast."
The Rokid Max has a 120Hz refresh rate for "smooth visuals and supporting three degrees of freedom" (3DOF) in compatible AR experiences, per Rokid, which says "it reduces front light leakage by 90 percent during use." Brightness of up to 600 nits and lens covers allow the Rokid Max clear visibility even in outdoor environments.
"The Rokid Station comes equipped with a standalone 5,000mAh battery for five hours of continuous use," writes Android Police, noting that "internal storage is paltry at only 32GB," which it says "should be fine" for those relying primarily on streaming media.
A micro HDMI display port connects to the Rokid Max, other compatible AR glasses or an  external display. A USB-C port can be used to connect and charge a phone.
The Rokid Station requires an Internet connection through Wi-Fi or connection to a  smartphone's mobile data, but once connected facilitates access to streaming apps through the Google Play Store — including Amazon Prime, Disney+, Hulu, YouTube and more.
Related:
Rokid Vision Review: The First Android TV Box for AR Glasses Is a No-Frills Affair, XDA, 8/7/23
Rokid Station Review: Full Android TV on Your Face, Supercharged Rokid Max, PhoneArena, 8/2/23
Topics:
Amazon Prime
,
Android TV
,
AR Glasses
,
Augmented Reality
,
China
,
Disney Plus
,
Fire TV Stick
,
Google
,
HiMedia
,
Hulu
,
Immersive
,
Internet
,
Micro OLED
,
Movie
,
Nvidia Shield
,
Rokid
,
Rokid Max
,
Rokid Station
,
Roku
,
Smartphone
,
Sony
,
Streaming
,
Video
,
Virtual Screen
,
Wi-Fi
,
YouTube TV