During a November 19th Digital Town Square hosted by the Entertainment Technology Center and Equinix, ETC specialist Erik Weaver led an online session on the making of "Ripple Effect," ETC's latest R&D short film that tested new technologies and workflows, including the cloud, virtual production and remote editing and VFX. The production also tested the tools and procedures that meet or exceed industry standards for a safe set during COVID-19. Weaver, who executive produced "Ripple Effect," was joined by executive producer Greg Ciaccio, who also headed up post and production technologies, and other members of the production team.
The nine-minute "Ripple Effect" was funded by six organizations and supported by 29 more. As a production of the Entertainment Technology Center at USC, producers Jamie McNeill, Brendan Bennett and Damon Laguna are all graduates of USC's School of Cinematic Arts. Writers/directors Hannah Bang and Margo E. Sawaya and writer Sabina Vajrača are MFA graduates of the School of Cinematic Arts.
Weaver reported that work on "Ripple Effect" started in early summer, when the COVID-19 pandemic was still relatively new. As a result, the team first focused on establishing the principles for a safe set. The first was data translatability.
"We collected COVID safety policies from key unions," said Weaver, who thanked ICG's Michael Chambliss for guiding the team. "We collected as much data as we could from cities around the world, to gather as much knowledge as possible."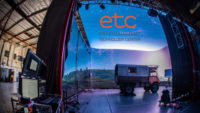 The second principle was establishing how to visualize the data and, last, how to make it auditable. The production also brought on licensed occupational therapist Catherine Shin as COVID safety officer to work with the team to create strong, enforceable protocols.
Safetyvis was how the production was able to use game engine technology from Epic Games and Unity to visualize different narratives for what would happen on set, pinpoint problems and make changes. Virtual Wonders created the LiDAR scan of the production stages.
At Cinecode, DigitalFilm Tree's virtual production and pre-visualization unit, producer Andrea Aniceto-Chavez described how her team created avatars with a "ring light" around them representing the proper social distance. Both in previsualization and then production, the team used safetyvis to make changes on the fly and come up with the safest solutions.
"It was quick and easy to make needed changes and then disseminate them before anyone got onto the set," said Shin.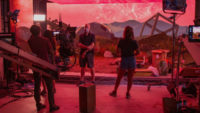 McNeill enumerated the Safety Plan checklist. "If you're working with any unions, you want to make sure you confirm the protocols are following their guidelines," he said. With regard to budgeting, he noted that a 10 to 15 percent bump will cover testing, PPE, personnel, cleaning, materials. He also described the Zone system, from Zone A, where actors work without masks; to Zone B, those working on the set but with masks; and Zone C, those working remotely.
He emphasized the importance of the production's use of Set Buddy, a device from Air Sheriff and Content Protection Experts that alerts users when they get within six feet of someone outside of their pod. It also acts as a contact tracer should the production experience a COVID infection.
Bennett stated that, although there are three types of testing, "PCR is the gold standard." He recommended finding a lab early on in pre-production, to learn how quickly it turns around tests and how much tests will cost.
Software, APIs, metadata and cloud-based technologies for production and post were the topic of two other panel discussions. Bang reported that the online post process takes patience. "The tools are there," she said. "You just need to slow it down and take time to explain it."
Data gleaned from the production and post of "Ripple Effect" will be presented in a 60-page white paper. A future ETC Digital Town Square will focus on virtual production and LED volumes.
Topics:
Air Sheriff
,
Andrea Aniceto-Chavez
,
Brendan Bennett
,
Catherine Shin
,
Cinecode
,
Content Protection Experts
,
COVID-19
,
Damon Laguna
,
DigitalFilm Tree
,
Epic Games
,
Equinix
,
Erik Weaver
,
ETC@USC
,
Greg Ciaccio
,
Hannah Bang
,
ICG
,
Jamie McNeill
,
Margo Sawaya
,
Michael Chambliss
,
Sabina Vajrača
,
Set Buddy
,
Unity
,
Virtual Wonders