In his review of the new BlackBerry Z10, personal-tech columnist David Pogue reverses his earlier suggestion that Research In Motion's smartphone was doomed. While the once dominant BlackBerry has dropped to a single-digit percentage of the market and the company's stock has plummeted, Pogue surprisingly notes that the new phone is "lovely, fast and efficient, bristling with fresh, useful ideas."
RIM officially changed its company name to simply BlackBerry this week — and in the wake of a failed tablet release and repeated delays regarding the release of its BlackBerry 10 operating system — unveiled the Z10.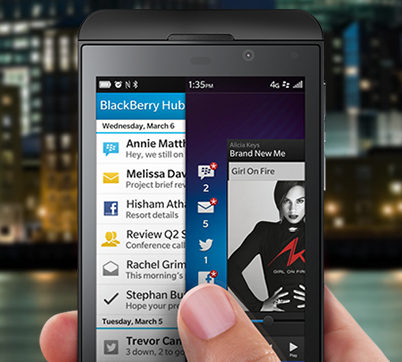 "And here's the shocker — it's complete. The iPhone, Android and Windows Phone all entered life missing important features. Not this one; BlackBerry couldn't risk building a lifeboat with leaks," writes Pogue for The New York Times. "So it's all here: a well-stocked app store, a music and movie store, Mac and Windows software for loading files, speech recognition, turn-by-turn navigation, parental controls, copy and paste, Find My Phone (with remote-control lock and erase) and on and on."
According to Pogue, the BlackBerry's 4.2-inch screen is sharper than the iPhone's Retina display and both its cameras can record in high definition (1080p for the back camera and 720p up front). The device features 16GB of storage with a memory card slot for expansion. While there's no way to compete with the current number of apps available for iOS and Android, BlackBerry will have 70,000 apps available on its first day.
The company says another model, the Q10, will include a physical keyboard, but smaller screen. However, Pogue suggests you may not need the keys since the Z10 offers a "mind-bogglingly clever typing system."
"Some of BlackBerry 10's ideas are truly ingenious," Pogue notes. "A subtle light blinks above the screen to indicate that something — a text, an e-mail message, voice mail, a Facebook post — is waiting for you. Without even pressing a physical button, you swipe up the screen; the Lock screen lifts like a drape as you slide your thumb, revealing what's underneath. It's fast and cool."
"The BlackBerry 10 neatly solves a huge problem for corporate techies: how to keep employees' work phones secure in a world where people also use their phones for personal things. If a company has BlackBerry's corporate software suite, separate worlds can be created on each phone: personal and work, with distinct calendars, address books, wallpaper and even app collections. They appear together — but without the work password, only the personal stuff is visible."
Pogue notes several missteps: no physical silencer switch, Mail app limitations, calendar views that don't rotate, inability to drag appointments for rescheduling, comparatively lackluster speech recognition and limited battery life.
"Is the delightful BlackBerry Z10 enough to save its company?" asks Pogue. "Honestly? It could go either way. But this much is clear: BlackBerry is no longer an incompetent mess — and its doom is no longer assured."
The BlackBerry Z10 will be available from Verizon, AT&T, Sprint and T-Mobile. Verizon will charge $200 with a two-year contract.