Many smartphone owners use file-sharing apps or online storage sites to store their free music downloads and listen on their phones. According to a new study from researcher NPD Group, 21 million people in the United States downloaded at least one unauthorized song in the past year. Apps have made it even easier for people to access music for free, even though most of them provide users with the same free music that would be found through an Internet search.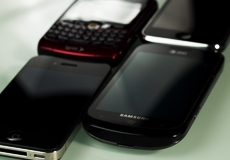 The Google Play store has approximately 250 apps for downloading MP3 files to tablets and smartphones. The most popular music sharing app is Music Maniac, which gives users free access to the top 10 songs listed on Billboard's Hot 100 list. Although the Recording Industry Association of America has requested that Google remove the app, stating that it enables piracy, Google has declined.
"Global music revenue slumped 3.9 percent last year to $15 billion, as the world's second-largest music market, Japan experienced a sharp drop in sales," according to Re/code. "Digital revenue — particularly from subscription services such as Spotify or Beats Music — continue to grow."
While music industry leaders used to think mobile devices were a safe-haven from piracy, smartphones have posed a new problem. Since Apple is the world's largest music retailer, it is more efficient in monitoring apps in the App Store, and preventing privacy.
In contrast, Google has an open marketplace, and does not monitor the software that developers upload to the Google Play store.
"In testimony before the House Judiciary Committee, RIAA Chairman Cary Sherman said the industry has sent Google more than 2 million notices of infringements from MP3skull.com. But as recently as March 10, some 10 applications available through the Google Play store claimed some connection to the pirate site," reports Re/code.
Google also poses a potential problem regarding piracy since search engines are the largest source of traffic to unlicensed music downloads.
Topics:
App
,
Apple
,
Beats
,
Billboard
,
Developer
,
Device
,
Download
,
Engine
,
File
,
Free
,
Global
,
Google
,
Industry
,
Infringement
,
Internet
,
Japan
,
Listen
,
Market
,
Marketplace
,
Member
,
Mobile
,
Monitor
,
MP3
,
MP3skull.com
,
Music
,
Music Maniac
,
NPD Group
,
Online
,
Open
,
Phone
,
Piracy
,
Prevent
,
Recode
,
Retail
,
Revenue
,
RIAA
,
Search
,
Share
,
Sherman
,
Smartphone
,
Software
,
Song
,
Source
,
Spotify
,
Storage
,
Store
,
Study
,
Tablet
,
Traffic
,
Unauthorized
,
Unlicensed