Philips launched a new 43-inch, 16:9 computer monitor in the U.S. this week that features a 4K Ultra HD LCD display touting 3840 x 2160 resolution, 178-degree horizontal and vertical viewing angles, and a 5ms response time. Model BDM4350UC touts 10-bit color support (with color reproduction rated at 1.07 billion colors) and a dynamic contrast ratio of 50,000,000:1. The IPS monitor — which also features MultiView functionality, built-in 7-watt speakers, and a four-port USB 3.0 hub — is currently available on Amazon for $800.
The BDM4350UC is the latest model in the Philips Brilliance line. According to the Amazon listing, SmartConnect inputs include one VGA connection, two DisplayPorts and two MHL-compatible HDMI 2.0 ports. It also features a VESA wall mount, which could come in handy, considering the monitor's size.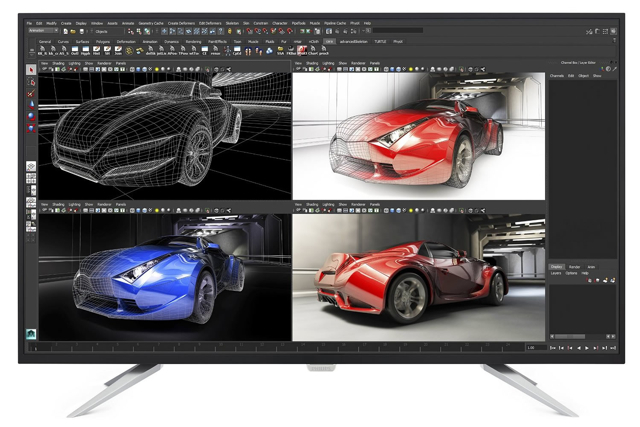 The display's MultiView function allows users to view up to four systems on one screen. This could "be useful for a shared family display," suggests Digital Trends. "Using MultiView, one person could browse online using one half of the screen while another person is playing a video game on a different device."
However, Philips is also targeting productivity users. "This type of monitor offers a significant amount of screen space for programs used by graphic designers, videographers, photographers and engineers; basically anyone that could utilize four distinct 1080p areas of the screen to work," notes DT.
Topics:
10-Bit Color
,
1080p
,
4K
,
Amazon
,
BDM4350UC
,
Computer
,
Contrast Ratio
,
Display
,
DisplayPort
,
Engineer
,
Gaming
,
Graphic Design
,
HDMI
,
In-Plane Switching
,
Internet
,
IPS
,
MHL
,
Monitor
,
MultiView
,
PC
,
Philips
,
Philips Brilliance
,
Photography
,
SmartConnect
,
Speakers
,
Ultra HD
,
USB
,
VESA
,
VGA
,
Video
,
Wall Mount