With the acquisition of Pebbles Interfaces, Oculus VR is poised to replace its Touch controller with hand-sensing technology that allows users to interact directly with the virtual world. This is Oculus' latest acquisition this year of companies offering expertise in tracking and 3D mapping. Pebbles' technology, based on custom optics, sensor systems and algorithms, tracks hand movement in real space, with detailed mapping of where each hand is in relation to the other. The terms of the purchase were not announced.
According to Wired, the Israeli-based Pebbles Interfaces offers the ability to "accurately map individual finger movement and how each digit interacts with the others, interlocking or tapping, and creating a 3D model that can then interact with objects in the VR space." That's something the recently debuted Touch controller (below) cannot do. Ars Technica notes that Pebbles technology "works more like Kinect or Leap Motion."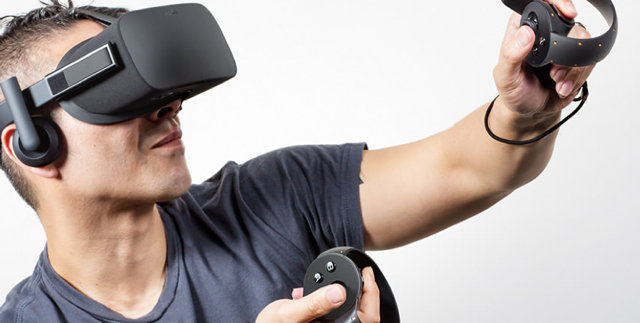 Oculus VR has been moving towards a more high quality hand tracking for some time. Over the last year, the company purchased 13th Lab, which specializes in tracking movement; Nimble VR, which focuses on hand tracking and creating real-time 3D models of real-world objects; Surreal Vision, which maps rooms in 3D as the user walks around; and Carbon Design Group, which designed the Xbox 360 controller.
Those purchases indicate, says Ars Technica, that, "Oculus is already looking past the Touch and toward more free-form tracking solutions for future editions of the Rift."
Pebbles Interfaces CTO Nadav Grossinger told Wired that, "visual computing will be the next major platform in our lifetime."
"Through micro-optics and computer vision, we hope to improve the information that can be extracted from optical sensors, which will help take virtual reality to the next level," he said.
Topics:
13th Lab
,
3D Mapping
,
3D Model
,
Carbon Design Group
,
Hand-Sensing Technology
,
Kinect
,
Leap Motion
,
Micro-Optics
,
Nadav Grossinger
,
Nimble VR
,
Oculus
,
Oculus Rift
,
Oculus Touch
,
Oculus VR
,
Pebbles
,
Pebbles Interfaces
,
Sensor Systems
,
Surreal Vision
,
Touch Controller
,
Tracking
,
Virtual Reality
,
Visual Computing
,
Xbox 360 Controller