Nvidia CEO Jen-Hsun Huang debuted the much-anticipated GeForce GTX 1080 gaming GPU, the first based on the new Pascal architecture, promising dramatic improvements in performance, memory and power efficiency. Huang told the crowd at DreamHack in Austin, Texas that the new GPU delivers twice the performance and three times the efficiency of Titan X. For a sense of Pascal's capabilities for gaming and virtual reality, attendees were treated to demos involving next generation character models, the Ansel game capture tool and the compelling "VR Funhouse" experience.
"Several thousand people have been working on this project now for more than two years," explained Huang. "This is the largest GPU endeavor, the largest chip processor endeavor, in the history of humanity. The R&D budget was several billion dollars."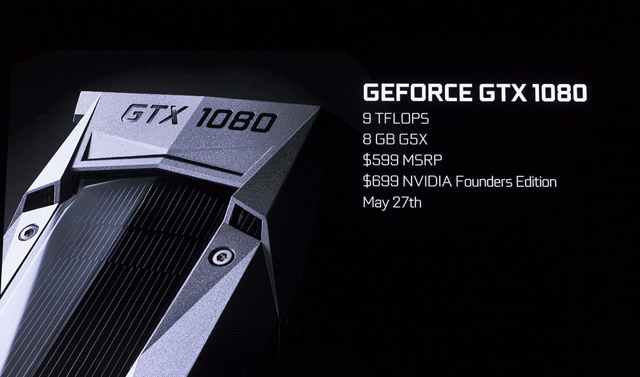 According to the Nvidia blog, "its greater memory bandwidth and power efficiency let the GTX 1080 run at clock speeds never before possible — more than 1700 MHz — while consuming just 180 watts of power."
"The only faster GPU is a Maxwell GPU immersed in liquid nitrogen," claimed Huang.
"Virtual reality and multi-monitor gaming have also been foremost concerns in Nvidia's Pascal development, and the graphics company has a super cool new technology to make both better, called simultaneous multi-projection," reports The Verge.
"'VR Funhouse' is compatible with the HTC Vive and will soon be made available through the Steam store, integrating visual, audio, and touch technologies that Nvidia has developed for creating more immersive VR content," The Verge adds. The Ansel in-game photo tool features "visual filters, 360-degree captures, and a whole lot more."
The GTX 1080 Founders Edition with speed-binned chips will be available on May 27 for $699, while the standard GTX 1080 will retail for $599. Two weeks later, the company will also release the $379 GTX 1070, another card that outperforms the Titan X.
Topics:
Ansel
,
Austin
,
Character Models
,
DreamHack
,
Game Capture
,
Gamers
,
Gaming
,
GeForce GTX 1080
,
GPU
,
Graphics Card
,
GTX 1070
,
GTX 1080
,
HTC Vive
,
Jen-Hsun Huang
,
Liquid Nitrogen
,
Maxwell GPU
,
Multi-Monitor Gaming
,
Nvidia
,
Pascal
,
Power Efficiency
,
Steam
,
Texas
,
Titan X
,
Video Games
,
Virtual Reality
,
VR Funhouse
,
VRWorks