Public radio broadcaster NPR, which is primarily known for its news and interview programs, has been making a name for itself in the music world. NPR is expanding its horizons with its fifth year of NPR Music, which includes online streaming and podcasts. With a variety of programs like "Tiny Desk Concert" and "All Songs Considered," the station is providing unique opportunities for lesser known artists and established acts.
"With 2.7 million unique monthly visitors, 1.4 million podcast downloads every four weeks and an additional 1.4 million iPhone and iPad apps in circulation, NPR Music has become a sought-after stop for both aspiring and established artists," reports the Wall Street Journal.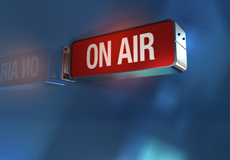 Last year, Sony Music launched Passion Pit's "Gossamer" album with an exclusive stream on the site, "thereby assuring that it would attract the sort of loyal, affluent and geographically diverse audience associated with public radio," notes the article.
"You can reach a lot of people on NPR Music that you can't reach elsewhere," adds Peter Standish, SVP of marketing at Warner Bros. Records.
"Tiny Desk Concert" has featured over 250 artists perform from the NPR headquarters, including Adele, Wilco, Lyle Lovett and Robert Cray. The program "All Songs Considered," which has been airing since 2005, consists of a special playlist every Tuesday created by hosts Bob Boilen and Robin Hilton.
Other music programming includes "First Listen," which streams upcoming albums in their entirety; "Live in Concert," featuring live performances from various venues; in addition to "links to music programming produced by public radio stations around the country and the blog postings of a staff curious about everything from alt Latino to avant-garde noise," explains WSJ.
"It's the closest thing we have to a pure startup inside what is now a 40-plus-year-old institution," says Kinsey Wilson, NPR's executive VP and chief content officer. "This group of now roughly 20 people has had an opportunity to invent something from scratch."
The site struck gold when Sony originally proposed streaming Bob Dylan's new album "Tell Tale Signs" on NPR Music in 2008. From this, the program "First Listen" was created to preview new albums.
"For years we'd been battling just to get the rights to play one song off new records," says Boilen. "Now they wanted to give us everything. But we didn't say yes right away. We wanted to hear the album. If it sucked, we weren't going to do it. But it was great."
This year, NPR Music is using streams created by DJs like Tom Schnabel from KCRW in Los Angeles. The station is also going deeper into video productions, with "Field Recordings" of various artists at different locations.
"To me, a mention on NPR Music is more valuable than any magazine cover," says R.E.M. manager and music entertainment lawyer Bertis Downs. "A magazine cover is just one shot, but on NPR Music you're linked to the whole world. If I had a choice between a hard copy and a link, I'd take the link."
Topics:
Adele
,
All Songs Considered
,
App
,
Dylan
,
iOS
,
iPad
,
iPhone
,
Live in Concert
,
Lyle Lovett
,
Music
,
Music Streaming
,
NPR
,
NPR Music
,
Online Radio
,
Online Streaming
,
Podcast
,
Radio
,
Song
,
Sony
,
Tiny Desk Concert
,
Warner Bros.
,
Wilco