After missing estimates for quarterly profit and full-year earnings predicted to be short of expectations, Nintendo shares fell as much as 4.7 percent, the biggest intraday drop since April 26. Nintendo reported disappointing operating income for the quarter ending in December: 168.7 billion yen ($1.5 billion) versus the 175.4 billion yen average projection. Wall Street has also projected slowed growth for major video game publishers that are holding back on new releases until new consoles have debuted.
Bloomberg reports that Nintendo investors are concerned about the longevity of the company's Switch console, especially as Microsoft and Sony gear up to release new consoles for the holidays. In fall, Nintendo debuted a less expensive Switch Lite (below), which has since sold 5.19 million units.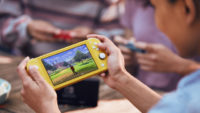 "We expect the results to have a negative impact on the shares over the near term," said Mitsubishi UFJ Morgan Stanley Securities analyst Hirotoshi Murakami. "We will be closely watching efforts that Nintendo makes to overhaul its mobile games business."
Nintendo's "total earnings from mobile games topped $1 billion to date," with "Fire Emblem Heroes" emerging "as Nintendo's biggest mobile earner, grossing $656 million since its launch almost two years ago, according to Sensor Tower."
Jefferies Group analyst Atul Goyal wrote that Nintendo has also "been criticized for being slow to roll out key features," such as multiplayer functionality for "Mario Kart Tour," which is still in beta, and offering "little visibility for its future game pipeline." Since debuting November 15, "Pokémon Sword" and "Pokémon Shield" have sold a combined 16 million units, and "Ring Fit Adventure," an exercise game attached to a motion capture set-up, has sold two million units.
Nintendo, with its local partner Tencent Holdings, began selling Switch in China on December 10, which "excited Nintendo investors hopeful of tapping a new market," although smartphones "remain the dominant gaming platform" there.
The Wall Street Journal reports that, "Wall Street has forecast only modest growth in revenue and profit this year for Electronic Arts, Activision Blizzard and Take-Two Interactive Software, as the companies are expected to keep their release slates light until after new consoles from Microsoft and Sony hit store shelves."
EA said it will wait to release its next "Battlefield" installment in the 2021 holiday season and will focus now on live services. Besides "Call of Duty," Activision hasn't announced any new games for 2020, and Take-Two has been mum on whether it will release a major title for the 2020 holiday season.
According to analysts, "publishers [will likely] post earnings for the December quarter above prior guidance, as viewership statistics from Amazon's Twitch, critics' reviews and company statements give them confidence that holiday-season games were well-received." All of them have been aided by "wavering interest in 'Fortnite'," with Nielsen's SuperData estimating digital revenue for the game across the platforms down 70 percent from the same period a year earlier.
Newzoo reported that, in 2019, global revenue from console games rose 7.3 percent to $45.3 billion, although "mobile games took in the largest chunk of the industry's $148.8 billion in global revenue, accounting for $68.2 billion, or 46 percent of the total."
Topics:
Activision Blizzard
,
Amazon
,
Atul Goyal
,
Electronic Arts
,
Fire Emblem: Heroes
,
Fortnite
,
Hirotoshi Murakami
,
Jefferies & Company
,
Mario Kart Tour
,
Microsoft
,
Mitsubishi UFJ Morgan Stanely Securities
,
Newzoo
,
Nielsen
,
Nintendo
,
Pokémon
,
RIng Fit Adventure
,
Sensor Tower
,
Sony
,
SuperData
,
Switch
,
Switch Lite
,
Take-Two Interactive
,
Tencent Holdings
,
Wall Street