Samsung is expanding its smartwatch offering to include a smart watch-phone that can send and receive calls without the need for a separate smartphone. The new Tizen device, which the company hopes to unveil this summer, will also feature a camera, GPS, email management, Bluetooth and heart rate monitor. Samsung also filed a patent last week that details another smartphone project, which includes a camera that can be operated by touchless gestures.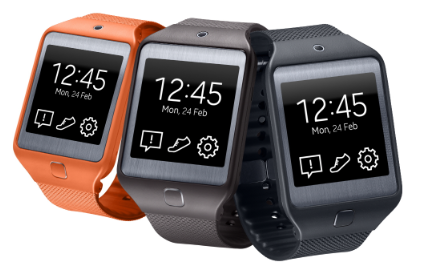 The Samsung watch-phone is one of just a few standalone products out on the market, and it is the first one by a major manufacturer. Currently, Samsung makes four smartwatches, including the Galaxy Gear, Gear 2 (pictured right), Gear 2 Neo and Gear Fit.
The Galaxy Gear runs on Android, but the other three watches and Samsung's upcoming watch-phone will run on Tizen, Samsung's own operating system that the company hopes can compete with Apple and Google software.
Samsung also filed a patent for a smartwatch that features an improved camera and functionality. The unnamed smartwatch has different watch faces, weather reports, fitness tracking and mapping, and perhaps a heart rate monitor. The distinguishing characteristic, though, is the mounting. The watch face can actually be taken off the wristband and attached to a keychain or clip. It can also be used as a standalone TV remote.
In addition, the camera on the smartwatch in the patent is improved because of the new gesture recognition. Certain finger and hand movements can operate the camera without obscuring the view of the display. Android Authority reports that "images from the camera can be run through image/object recognition, barcode scanning, and even text with OCR translations."
According to The Wall Street Journal, smartwatches with or without a phone function still will not produce much revenue yet. However, wearable devices are on the rise. Market research firm IDC estimates that wearable device shipments will triple this year to 19 million units. Comparatively, smartphone shipments are estimated to reach 1.2 billion units, a 19 percent increase.
Topics:
Android
,
Android Authority
,
Apple
,
Barcode
,
Bluetooth
,
Camera
,
Device
,
Email
,
Fitness
,
Galaxy
,
Galaxy Gear
,
Gear
,
Gear 2
,
Gear 2 Neo
,
Gear Fit
,
Gesture
,
Google
,
GPS
,
Heart Rate
,
Heartrate
,
IDC
,
Image
,
iOS
,
Journal
,
Monitor
,
mounting
,
Neo
,
Operating
,
Patent
,
Phone
,
Recognition
,
Remote
,
removable
,
Samsung
,
Scan
,
Scanning
,
Smartphone
,
Smartwatch
,
Standalone
,
System
,
Television
,
Tizen
,
translations
,
TV
,
Wall Street
,
Watch
,
Wearable
,
Weather