Google's I/O developers conference kicks off tomorrow with a three-hour keynote from the Moscone Center in San Francisco. During the three-day event, the company is expected to announce an update to its Android mobile operating system and an updated version of its 7-inch Nexus 7 tablet (and possibly a new 11-inch model), while there has been speculation that Google may also unveil a new smartphone from Motorola, a new design for Google Maps, new Chrome features and more.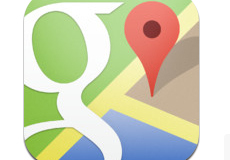 According to Business Insider, the Android announcement "will likely just be a minor update to the current version and keep the same 'Jelly Bean' branding it's had since last year's I/O conference. Many were expecting Google to announce a new version called 5.0 Key Lime Pie at I/O this year, but we don't have any evidence that such an update is ready yet."
The next-generation Nexus 7 is rumored to feature a lighter and thinner design, 1920×1200 display, 5MP camera, wireless charging and faster Qualcomm processor — possibly keeping its $199 price tag, reports  9to5Google, quoting analyst Mingchi Kuo from KGI Securities. Google may also announce an 11-inch model from Samsung.
"There's been a lot of buzz about new smartphones from Google-owned Motorola," suggests Business Insider. "Several months ago, the Wall Street Journal reported that Motorola was working on a device called the X-Phone with direct guidance from Google. Recently, Google CEO Larry Page hinted that future phones from Motorola wouldn't break if you dropped them and would have incredible battery life."
Additionally, TechRadar reports that Google will debut a new chat platform, retiring the Babel moniker and merging its various chat services under the Hangouts brand. BI also notes that leaked screenshots suggest design changes to the Web version of Google Maps (including venue recommendations from Google+ connections) — and the Chrome Web browser may receive an upgrade that adds voice-powered assistant Google Now.
"We're expecting to learn a bit more from Google about Glass, the computerized headgear Google started shipping to testers in recent weeks," concludes BI. "The version you may have seen people writing about lately is actually an early model of the device. The final product won't be ready until next year. Hopefully, Google will give us a better idea of how developers will be able to create apps for Glass and when normal people will be able to buy their own device."
Check back with ETCentric during the week as details are unveiled from Google I/O in San Francisco.
Topics:
Android
,
Babel
,
Browser
,
California
,
Chrome
,
Conference
,
Developer
,
Glass
,
Google
,
Hangouts
,
I/O
,
Jelly Bean
,
KGI
,
Larry Page
,
Maps
,
Mobile
,
Motorola
,
Nexus
,
Nexus 7
,
Operating System
,
Qualcomm
,
Samsung
,
San Francisco
,
Smartphone
,
Tablet
,
X-Phone