Spotify recently announced a new partnership with Disney that brings a collection of Disney playlists to the streaming music platform. The Disney Hub on Spotify — currently available for fans in Australia, Canada, Ireland, New Zealand, South Africa, the U.K. and U.S. — features soundtracks and other music related to Disney movies and TV shows. Among the current categories are Disney Hits, Disney Favorites, Disney Classics, Disney Sing-Alongs, Disney Princess, Marvel Music and The Best of Star Wars.
Playlists include content from a wide range of Disney and Pixar films, Disney Channel originals, theme parks and more. According to the Spotify Newsroom, "the Disney Hub will be updated with additional content as it roars across the screen this summer and throughout the year."
Streaming music via smart speakers and other devices is becoming more commonplace for younger users as kids are increasingly obtaining such devices at early ages.
"Disney songs in particular appeal to families with children, and Spotify memberships that offer multiple profiles for both parents and kids alike are of more value to the streaming service," notes TechCrunch. "Spotify Premium in the U.S. is $9.99 per month, but the Family membership is $14.99 per month."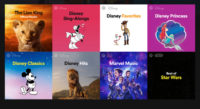 Disney songs are becoming quite popular on Spotify, with tracks from "Frozen" and the live-action "Aladdin" serving as favorites. Spotify notes that more than 2 billion minutes of Disney songs have already been streamed this year alone.
"It's worth noting, too, that Spotify already has a close partnership with Hulu, which is now majority-owned by Disney," adds TechCrunch. "In the past, the companies have offered a Hulu-Spotify bundle at a discounted price to gain more subscribers."
Topics:
Aladdin
,
Animation
,
Australia
,
Canada
,
Children
,
Disney
,
Disney Channel
,
Disney Hub
,
Family
,
Frozen
,
Hulu
,
Ireland
,
John Williams
,
Marvel
,
Movie
,
Music
,
New Zealand
,
Pixar
,
Playlist
,
Smart Speaker
,
Soundtracks
,
South Africa
,
Spotify
,
Spotify Premium
,
Star Wars
,
Streaming
,
Subscription
,
Theme Park
,
TV Show
,
United Kingdom
,
United States