Feature film "Songbird," directed by Adam Mason, is a thriller based on the COVID-19 pandemic. Shot last summer in Los Angeles, the production used new camera-to-cloud technology that enabled remote participation — including live feedback — by any crew member that couldn't be on set. Cloud-based video review company Frame.io had been working on the concept, streaming footage from connected cameras over 4G or LTE to remote crew. The company's C2C solution launches this month. "Songbird" co-producer Max Votolato dubbed it "like having a video village in your pocket."
ZDNet reports Votolato added that, "we were in a situation where we couldn't have a traditional on-set configuration; and yet a video village is something you usually always have on a movie."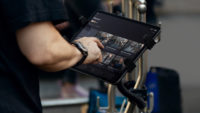 The "Songbird" crew was already familiar with Frame.io as a video review tool. The company's vice president of innovation Michael Cioni, who said "Songbird" was the first film to use Frame.io's new tech, faced one overriding challenge: "professional cameras have never been connected before." "The only camera that connects to the Internet is your phone," he said.
The cameras were fitted with a Teradek transmitter which recorded a proxy of the original files, which were then sent to the cloud via the Frame.io application, and onward to iPhones, iPads and monitors. Frame.io co-founder and chief executive Emery Wells noted that, without this solution, crew would have had to wait to see proxies at end of day or even the next day.
"Now, they can see that in real time, and even if they aren't on set," he said. Votolato said he followed the production from home, 30 miles from the set, for a month. "It's absolutely the greatest setup I've ever had," he said.
The Frame.io system also allowed editors to work remotely, sometimes even while the footage was still being shot. Wells, who spent 15 years in post production, noted that the industry previously relied on physical distribution of hard drives to editors. Meanwhile, the rest of the team could watch every step of production via the shared platform.
Wells pointed out that for the solution to work, "a lot of different components had to come together, like faster mobile networks and sophisticated hardware." "We've gathered all the pieces," he said.
Distributed by STX Films and produced by Michael Bay, "Songbird" features KJ Apa, Sofia Carson, Craig Robinson, Bradley Whitford and Peter Sormare. Frame.io's camera-to-cloud solution is available this month (the company has already been running a beta trial).
For more on virtual and remote production, visit ETC's "Ripple Effect" site that details solutions for returning to production during this era of shelter in place orders and social distancing.
Related:
Frame.io Unveils Camera to Cloud, American Cinematographer, 2/11/21
'Ripple Effect' Team Outlines Safety Protocols and Workflows, ETCentric, 11/20/20
ETC Publishes Videos of 'Ripple Effect' Digital Town Square, ETCentric, 2/1/21
Topics:
4G
,
4G LTE
,
Adam Mason
,
C2C
,
Camera-to-Cloud
,
Cloud
,
Connected Cameras
,
Coronavirus
,
COVID-19
,
Emery Wells
,
Frame.io
,
iPad
,
iPhone
,
Los Angeles
,
Max Votolato
,
Michael Bay
,
Michael Cioni
,
Movie
,
Post Production
,
Production
,
Proxy Files
,
Remote Editing
,
Remote Workflow
,
Songbird
,
Streaming
,
STX Films
,
Teradek
,
Video
,
Virtual Production