Netflix is in talks with several pay TV providers, including Comcast and Suddenlink Communications, to offer its online video service as an app on pay TV set-top boxes, according to those familiar with the talks. Netflix and cable operators are competitors, but both may be open to the possible benefits in combining their services. However, some cable operators have concerns regarding Netflix technology on their network and where that may lead.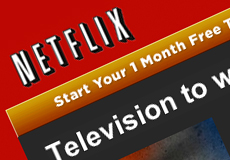 "A deal would mark the online video service's first such tie-up with a U.S. cable provider and would come after a similar agreement it recently announced with U.K. cable operator Virgin Media Inc.," reports The Wall Street Journal. "The talks are in early stages and no deal is imminent, the people cautioned."
Despite any rivalry, Netflix and U.S. cable providers are considering potential partnerships where appropriate. Any possible outcomes would allow cable TV users to access the Netflix app on newer set-top boxes, instead of other separate devices such as smart TVs, gaming consoles or streaming devices as is currently the norm.
A point of disagreement in the talks for two cable companies is Netflix's preference of using its own technology to improve streaming delivery, note people familiar with the issue. Netflix wants its Open Connect system connected directly into cable providers' broadband networks as it considers this technology is key to delivering the best service.
Internet providers such as Time Warner Cable, AT&T, and Verizon have declined using this technology as they are concerned that the agreement could allow other online services to request special access. The companies also argue that their networks can handle the traffic without Open Connect.
Previously, several U.S. cable TV providers were concerned that Netflix could draw customers away from their own video services. However, many now believe that Netflix users will buy more expensive set-top boxes and faster broadband connections. Some operators also see that Netflix could add leverage during carriage-fee disputes with TV broadcasters.
"Still, there are potential stumbling blocks in the negotiations," suggests WSJ. "A concern for at least one operator is that Netflix could eventually use the app as a 'Trojan Horse' to sell pay-per-view movies or other services that compete directly with the operator's video offerings, the people familiar with the matter say."
Netflix would "love to reduce the friction to the end consumer" by being offered on cable companies' set-top boxes, said David Wells, the company's CFO. But that decision is with the pay TV operators "to decide how much of a competitor they view us as or a complement."
Comcast initially had no plans to add online service apps to their new Internet connected set-top device, but are now more open to talks with other online service apps for its devices, say some people. DirecTV and Verizon allow YouTube apps on their Internet connected boxes, and Time Warner Cable and Cox Communication are also considering YouTube.
Topics:
Agreement
,
App
,
AT&T
,
Broadband
,
Cable
,
Comcast
,
Console
,
Cox
,
DirecTV
,
Film
,
Game
,
Internet
,
Movie
,
Netflix
,
Online
,
Open Connect
,
Pay TV
,
PPV
,
set top
,
Set-Top Box
,
Smart TV
,
STB
,
Stream
,
Streaming
,
Subscribe
,
Subscription
,
Suddenlink
,
Television
,
Time Warner Cable
,
TV
,
TWC
,
Verizon
,
Video
,
Virgin Media
,
YouTube