How would you like to exchange LinkedIn, Facebook and/or Twitter connections with a simple handshake? You can do that now with Razer's Nabu, the company's first wearable device. CES attendees responded enthusiastically, giving it the People's Choice Award. The win was among finalists in 13 categories, including Best Startup, Best Automotive Electronic Device, Best Video and Best Software, and accounted for nearly 50 percent of the total 54,511 Engadget reader votes.
On cursory examination, the Razer Nabu looks like many other fitness tracker wearables and smartwatches. What sets it above the competition is its singular twist on engaging with social media.
"The Nabus can actively and passively talk to each other," said Razer spokesperson Kevin Scarpati. "Depending on how you set your preferences, if you shake hands with someone wearing a Nabu, you can exchange LinkedIn contacts, become Facebook friends, or follow someone on Twitter."
Another Nabu gesture is a shake of the arm to dismiss an email or other notification. But the gestural power of the Nabu is just in its infancy. Nabu is built on an Open API, and Razer is offering developers a Nabu for $49 to encourage more apps.
"Anyone has access to our software to be able to develop for the hardware Nabu," said Scarpati. "The number of developers that have signed up are already in the thousands."
Razer plans to announce next week both the exact number of developers who have signed on to create Nabu apps and the consumer price for Nabu.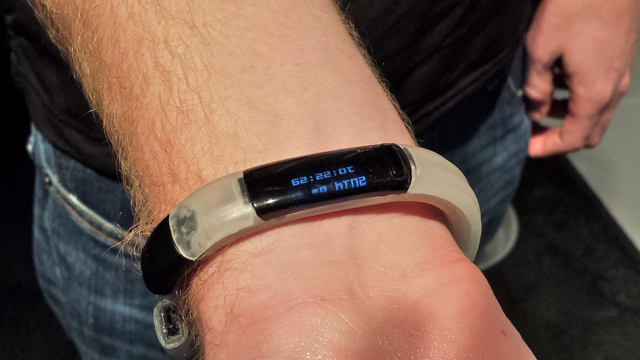 Nabu's design also provides a modicum of privacy: a screen on the top of the wrist (along with a vibration and buzz) provides a notification from email, Facebook or Twitter. But the user has to turn his or her wrist over to see the actual message on a second, less visible screen.
Yes, there's fitness data (another potential source of add-ons by developers), but the user has to opt in to it. "You don't have to get fitness data," said Scarpati. "You can pick and choose which data you want from the fitness apps." A utility app manages everything the user wants to track. Another appealing feature is battery life: the Nabu only needs to be recharged every 7 to 10 days.
Nabu's natural user base is Razer's millions of gamers, already connected to the company's cloud via its Synapse 2.0 software. "We are known globally as one of the largest brands for gamer software," said Scarpati. "We ship millions of devices every year that are all customizable, and all synched with our cloud, which means they can be accessed anytime, anywhere."
"Nabu is made for gamers," he concluded. Given just how enormous the gaming market is, the prospects look good for Nabu gaining a loyal following and a foothold in the competitive smartwatch market.
Topics:
2014
,
Activity
,
API
,
App
,
Award
,
Best
,
Best of CES
,
CEA
,
CES
,
Cloud
,
Communication
,
Consumer
,
Developer
,
Electronics
,
Facebook
,
Fitness
,
Hardware
,
Health
,
Las Vegas
,
LinkedIn
,
Monitor
,
Nabu
,
People's Choice
,
Razer
,
Scarpati
,
Share
,
Show
,
Smart
,
Smartwatch
,
Social
,
Social Media
,
Software
,
Startup
,
SyNAPSE
,
Track
,
Tracker
,
Tweet
,
Twitter
,
Video
,
Watch
,
Wearable